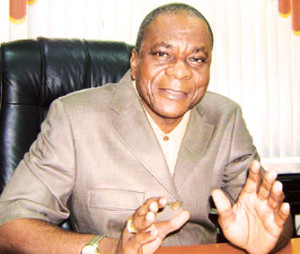 Leading licensed Customs agent and National President, National Council of Managing Directors of Licensed Customs Agents (NCMDLCA), Mr. Lucky Amiwero, has blamed the Federal Government for promoting policies that are inimical to the progress of the nation's seaports. He also criticized Nigerian Ports Authority for insisting on payment to it by terminal operators in US dollars.
Speaking during a training for journalists of the Federated Maritime Media Chapel of the Nigeria Union of Journalists (NUJ) in Lagos on Monday, Amiwero said government's foreign exchange policy has not only deprived the ports of much-needed cargoes, it has also led to high cost for terminal operators.
According to him, it is wrong for government to be charging private terminal operators based on cargo throughput and in US dollars, when volume of cargo at the port has drastically reduced.
"Government is the one that killed the throughput and that they have killed the throughput should be government's concern to reduce the cost. If you look at the throughput in 2012, 2014 and 2017, you will see the sharp difference. You cannot be telling somebody to pay when the cargo is not there.
"One of the critical policies that are crippling the economy is the exchange rate policy because even if you have the money to import, you cannot get the foreign exchange. The foreign exchange policy of the government is being converted by some few people who use it to enrich themselves," he said.
Amiwero said terminal operators at the nation's seaports must be protected because of their huge investment.
In his paper presentation titled 'Concept of Concession and Component of Port Regulation", Amiwero, said, "70 percent of the throughput is not coming. So how do they pay?"
Copyright 2016 Ships & Ports Ltd. Permission to use quotations from this article is granted subject to appropriate credit given to www.shipsandports.com.ng as the source.