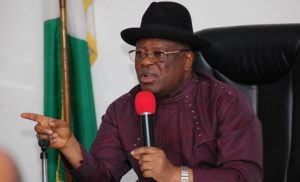 The Ebonyi State Governor, David Umahi on Monday ordered the confiscation of foreign rice in markets, shops and other selling points of the products in the state.
Umahi had recently made the pronounced banning the sell of foreign rice in the state over what he described as the health dangers associated with Foreign rice.
The state governor who made the disclosure in Abakaliki, the Ebonyi State capital while performing the ground breaking ceremony of Kpirikpiri market urged residents of the state to inform government of anyone bringing into, or selling, rice in the state.
He said, "We have set up a Taskforce and directed them to confiscate foreign rice found in our market.
"The person should give us the certificate of the quality of the rice, you have to prove the import duties you paid for it, where you brought it from and you give us Standard Organization of Nigeria certificate to prove that the rice is not poisonous.
"Some of these rice were stored for more then 20 years abroad before it would be smuggled into the country.
"That is why we see cases of cancer, cases of kidney failure and all kinds of diseases that our people were not known for. So you are taking risk if you are selling foreign rice in the land of Ebonyi."
He claimed that Ebonyi had enough rice and was looking for distributors of the commodity.
Meanwhile, the Special Adviser to the Governor on Trade and Investment, Peter Obah has ordered that all foreign rice in the State must be evacuated or moved out of the state within two weeks.
In a Press statement signed by him and made available to newsmen, he warned that no selling, buying or consumption of foreign rice in Ebonyi state would be allowed after 2 weeks.
"'This is to safeguard the lives of the people who now consume unhealthy substances packaged as foreign rice to Africa in recent time. Action would commence to impound all foreign rice seen in the state within two weeks of this statement," he said.
Copyright Ships & Ports Ltd. Permission to use quotations from this article is granted subject to appropriate credit given to www.shipsandports.com.ng as the source.