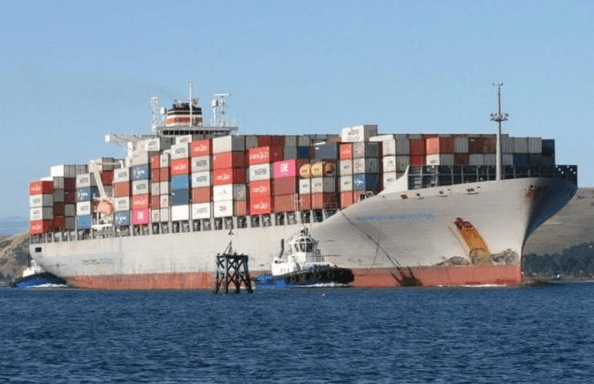 The captain of the Maersk Launceston has been temporarily released from custody in Greece as local authorities continue their investigation into last week's collision between the containership and a Greek Navy minesweeper.
As of Monday, the Maersk Launceston remained under arrest at berth in the port of Piraeus, where it has been held since the October 27 collision. 
A statement from the ship manager, JT Essberger, said an assessment of the vessel has revealed some minor damage, but the vessel remains seaworthy and managers are currently arranging for corrective actions identified during a Port State Control inspection of the vessel Saturday.
Meanwhile, the master of Maersk Launceston has been temporarily released by Greek authorities following his arrest last Wednesday. 
"He is being relieved by a replacement master who has arrived in Greece today to take command of the vessel," JT Essberger said in a statement on Sunday.
"Whilst the exact circumstances of the collision remain unclear JT Essberger and the master will continue to offer their cooperation to the investigators. Managers continue to provide legal support to the master," the statement said.
The Portuguese-flagged Maersk Launceston collided with the Greek Navy minesweeper Kallisto last Tuesday morning shortly after the containership departed Piraeus. The collision resulted in significant damage to the minesweeper, which remained afloat and was later towed to a nearby naval base. Only two of the vessel's 27 crew members were injured, but Sunday's update from JT Essberger indicated that the two have now been released from the hospital.
"Managers in the meantime regret the incident and the injuries and great disruption caused to the crew of Kallisto. The company has welcomed the good news that the two injured crew members have meanwhile been released from hospital," the update said.
Copyright Ships & Ports Ltd. Permission to use quotations from this article is granted subject to appropriate credit given to www.shipsandports.com.ng as the source.