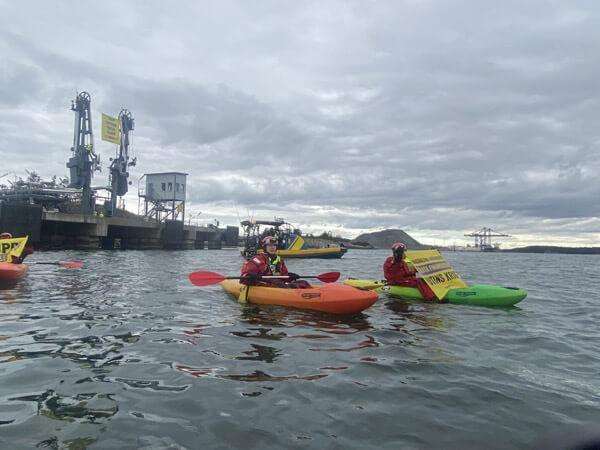 Greenpeace activists on Thursday blocked the LNG tanker Coral Energy from unloading Russian natural gas at a Finnish state-owned terminal, Gasum, in Nynashamn on Sweden's east coast.
The environmental campaigning network called on the Swedish government to immediately stop the import of Russian LNG.
Activists from Greenpeace Nordic stopped the ship Coral Energy from unloading its cargo of Russian fossil gas at an LNG terminal in Nynäshamn, south of Stockholm, Sweden. Climbers have occupied the cranes that unload the gas from the ship. Greenpeace sailing vessel SY Witness and activists in kayaks worked to prevent the ship from docking.
Greenpeace Nordic demanded that the Swedish government immediately stops importing Russian fossil gas.
"The fact that Russian fossil gas is still allowed to flow into Sweden, more than six months after Putin began his invasion of Ukraine, is unacceptable," said Karolina Carlsson, campaign leader at Greenpeace Nordic. "Parliament has given the Swedish government a clear mandate to stop all imports of Russian energy to Sweden. Prime minister Magdalena Andersson is obligated to act on this."
The tanker approached the Nynashamn terminal early on Thursday but turned around and left again around 0800 GMT, according to AIS ship data. It loaded a cargo in the port of Vysotsk in Russia on Sept. 4.
"The ship is still there and waiting to get safely to port. Local police are there to take care of it," she said.
According to Greepeace the Finnish state-owned Gasum has regularly imported a portion of their gas from Russian Gazprom and the oligarch-owned Novatek in Russian Vysotsk to Sweden and Finland.
"I am extremely grateful for all the support that Sweden has given to Ukraine in these dark times for my country," says Nadia Shevchenko, Ukrainian journalist who is on board the Greenpeace sailing vessel Witness. "At the same time, it is incomprehensible to me how Sweden's government can support Ukraine with one hand and with the other finance Putin's invasion and the abuse of the Ukrainian people by allowing these imports of Russian gas to continue."
Copyright Ships & Ports Ltd. Permission to use quotations from this article is granted subject to appropriate credit given to www.shipsandports.com.ng as the source.