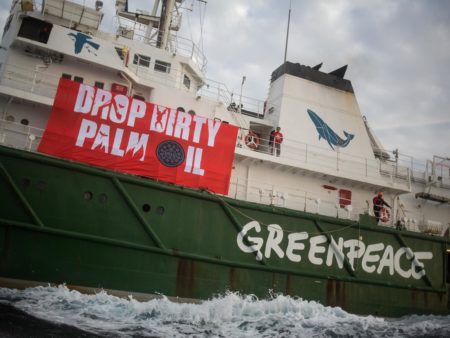 Six Greenpeace activists boarded Stolt Tenacity, a giant tanker owned by Stolt Tankers, while the vessel was underway off the west coast of Spain, in the Gulf of Cadiz on Saturday. 
Greenpeace said that the move was made as a sign of protest against rainforest destruction in Indonesia, as the ship was carrying palm oil products from Wilmar International. According to Greenpeace, Wilmar is a major supplier to global snack food giant Mondelez, one of the world's largest buyers of palm oil.
"A recent investigation by Greenpeace International found that Mondelez palm oil suppliers have destroyed 70,000 hectares of rainforest across Southeast Asia in two years, as well as evidence of child labour, exploitation of workers, illegal clearance, forest fires and land grabbing," the environmental organization said.
Around 24 million hectares of rainforest was destroyed in Indonesia between 1990 and 2015, according to official figures released by the Indonesian government. What is more, Greepeace pointed out that tropical deforestation produces more greenhouse gas emissions each year than the entire European Union outranking every country except the USA and China.
Greenpeace added that the captain of Stolt Tenacity detained the climbers in one of the cargo ship's cabins.
However, a spokesperson of Stolt Tankers denied the claims, emphasizing that "the activists were from the first moment of their unauthorized boarding free to disembark from the vessel."
"Immediately after the illegal boarding, the crew of Stolt Tenacity provided the activists with a safety briefing, food and accommodation," the company said in a statement. "A first request by the captain of Stolt Tenacity for the activists to rejoin the nearby Greenpeace vessel Esperanza however was declined by the group."
As informed, in order to arrange a swift and safe disembarkation of the activists Stolt Tenacity diverted its course to the port of Algeciras, where arrangements were made for the authorities to escort the activists from the vessel.
The company added that on November 18, at around 1800hrs local time Spanish authorities escorted six Greenpeace activists off the chemical tanker Stolt Tenacity in the port of Algeciras, Spain.
"Stolt Tankers is pleased that the activists have now safely disembarked from the ship. The company would like to reiterate that it respects the rights of individuals and organisations to express their views in a safe and peaceful manner. However, Stolt Tankers would also stress its concern over the risks to the safety and wellbeing of all those involved in the events of this weekend.
"The illegal boarding of Stolt Tenacity which was sailing at full speed when it was approached by high-speed skiffs and scaled by activists using boarding ladders, represented significant risks for both our crew, the activists, the safety of navigation and the marine environment," the company pointed out. 
Copyright Ships & Ports Ltd. Permission to use quotations from this article is granted subject to appropriate credit given to www.shipsandports.com.ng as the source.