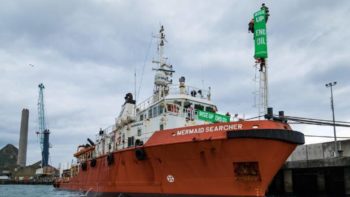 By Jite Eriabie 
Five Greenpeace activists, who were arrested after breaking into Port Taranaki and boarding a support vessel on January 31, have been released and are on their way home.
The activists boarded the Mermaid Searcher in protest of oil and gas exploration when it arrived in New Zealand to collect resupplies for the Schlumberger-owned 125-metre long ship Amazon Warrior.
According to New Zealand media reports, the activist appeared in court and were charged with unlawfully getting into a motor vehicle and with willful trespass.
The Amazon Warrior is blasting thousands of square kilometres of the New Zealand seabed in search of oil and gas, Greenpeace climate campaigner, Amanda Larsson, earlier said.
Prior to their arrest, the activist were warned by the police that officials from the Ministry of Business Innovation and Employment (MBIE) were travelling from Wellington to charge them under the controversial 2013 Amendment to the Crown Minerals Act.
The Amendment makes it an offence to interfere with oil exploration ships at sea, and was passed under the National Government without public consultation or a Bill of Rights Act review.
In April last year, Greenpeace activists, including Executive Director Dr Russel Norman, swam in front of the Amazon Warrior, 60 nautical miles off the Wairarapa coast, stopping it from seismic blasting for the day.
The activists and Greenpeace were charged for the first time in New Zealand history by MBIE under the Anadarko Amendment. They face a year in jail and up to $300,000 in collective fines. They have pleaded Not Guilty and will face trial in April.  
Copyright Ships & Ports Ltd. Permission to use quotations from this article is granted subject to appropriate credit given to www.shipsandports.com.ng as the source.