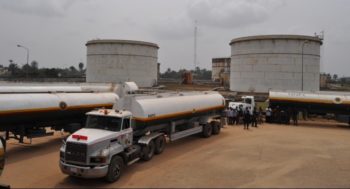 The House of Representatives yesterday called the Nigerian National
Petroleum Corporation (NNPC) to immediately begin the process of
relocating tank farms in the Apapa axis in a bid to eliminate the
gridlock on the Lagos port road.
The lawmakers resolution was sequel to the passage of a motion brought
under Matter of Urgent Public Importance by a member, Hon. Ayodeji
Joseph (APC-Lagos).
The House also mandated its Committee on Petroleum Resources
(Downstream) to liaise with NNPC with the view to ensure that only
tankers with Authority to Load (ATL) were allowed to go into Apapa.
The committee is also mandated to interface with Federal Ministry of
Power, Works and Housing and Nigerian Ports Authority (NPA) to put
pressure on the contractor handling the truck park at Tin Can Island to
ensure timely completion of the site.
Joseph, while moving the motion, noted that several interventions of
Lagos State among others to free the zone of traffic jams had failed. He
appealed to members to grant the prayers of his motion.
He said, "The House notes that the perennial traffic gridlock in Apapa
has not subsisted despite efforts of government to find a permanent
solution to it.
"Those economic and vehicular activities in the corridor, which is a
major gateway to the nation's foremost seaport, has been adversely
affected by the menace.
"In the first two weeks of September alone, over 2,000 trailers, trucks
and oil tankers had massively flooded Ikorodu road all through to Apapa
in a bid to get into the port and tank farms to convey commodities to
their various destinations.
"In response to the recent blockage of all access roads to Apapa and the
intractable traffic gridlock that resulted from it, the Lagos State
Government ordered all trailers, trucks and oil tankers to stay off all
the roads within the state.
"The House is further aware that Lagos State government has mobilised
resources to ensure articulated vehicles stay away from Lagos until the
traffic logjam is resolved while the representative of Apapa
Constituency 1 in the State Assembly, Mrs. Mojisola Miranda, has also
raised concerns about the problem.
"The House is concerned that breakdown of operations at Apapa port is
touted as the cause of the gridlock, which extended from Apapa to
Ojuelegba, with its attendant dislocation of economic activities.
"If something urgent is not done, port activities will be in jeopardy
and revenue to the nation's coffers will dwindle astronomically."
Other lawmakers, who spoke in favour of the motion, include: James
Faleke, chairman, House Committee on Customs and Excise; Rita Orji,
chairman, House Committee on Diaspora Affairs and Jide Jimoh
(APC-Lagos).
Similarly, in another motion, the House mandated its Committee on Ports,
Harbours and Waterways to investigate the cause of the dislocation in
port operations, which is suspected to have led to the renewed gridlock
and report back to the House within three weeks for further legislative
action.