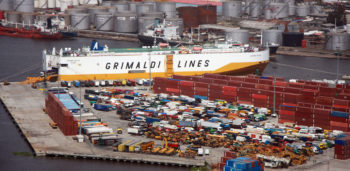 Grimaldi Agency Nigeria Limited has developed and introduced multiple payment options for port users.
Deputy Managing Director of Grimaldi Agency Nigeria, Nitin Senan, who disclosed this on Friday, said the shipping agency's customers can now obtain and pay provisional invoices at any quick teller enabled ATM machines and select banking platforms.
"Grimaldi remains at the forefront of innovative solutions for the Nigerian shipping industry. We had introduced e-bill payment solution a year ago successfully. Now we are pleased to advise that customers can pay our provisional invoices at any quick teller enabled ATM machine as well," Senan said.
He said the new electronic payment options will enhance prompt service as it will enable the company's customers take delivery of their cargoes at the port till 2pm the next day.
"In addition to timely deliver, no payment confirmation is required under the new payment options while delivery orders will be issued within few minutes of surrendering original Bill Lading.
"Other benefits include less physical presence at our office as only one visit to the marketing hall is required to obtain delivery order. There is also no manual processing fee. These benefits amount to reduced transaction time and cost for our roll-on-roll-off (RORO) customers," Senan said.
He said port users can benefit from the new e-payment system by simply printing their invoice and visiting any bank branch requesting payment through E-bills or PayDirect.
"The bank will process the payment and print transaction receipt showing details of invoice paid. Customers should then visit our releasing hall, submit Original Bill of Lading (OBL) and collect their Delivery Order.
"Our customers can also print the invoice showing transaction ID and Grimaldi vendor Code on top right corner at any Quickteller enabled ATM machine, sign in, select Quickteller payment option and pay their bills according to instructions on the next screen. After completing payment on the ATM machines, customers can then visit our releasing hall, submit Original Bill of Lading (OBL) and collect their Delivery Order," he said.
Senan also said that payments can be made using GT Bank's payment platform including debit or credit cards and net banking or via quickteller.com.
He said customers also have the option of visiting Grimaldi office to process their invoice and payment.
Senan said the firm has also opened a new contact centre to register requests and complaints by its customers.
"Physical customer service desk do not exist anymore. Each and every service requests or complaints would only be accepted through these new channels," he said.
He assured that all service requests would be handled promptly and responded appropriately within specified periods.
"While refund requests would be processed within five working days, all others would be responded to within a maximum of two working days. Some of the requests like rotation number, ETAs, tracking and estimates would be handled real time while on the phone," he added.
Copyright Ships & Ports Ltd. Permission to use quotations from this article is granted subject to appropriate credit given to www.shipsandports.com.ng as the source.