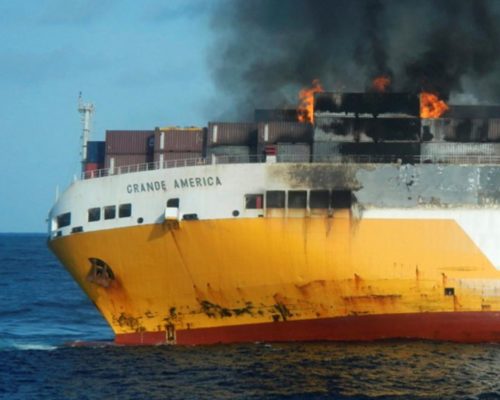 The Grimaldi Group has plugged the leaks discovered on the wreck of container-roro ship, the Grande America.
The leaks were plugged by remotely operated vessels in an operation concluded on Friday.
The operation was carried out in the Bay of Biscay where the vessel sank on March 12.
Grimaldi Group, the owner of Grande America, chartered specialized vessel Island Pride and seabed exploration company Ocean Infinity to carry out the works.
Operations entailed urgent subsea search, inspection and operations on the wreck of the MV Grande America, which was found sitting upright on its stern at a depth of 4,600 meters.
Several light leaks of oil were discovered and Ocean Infinity's ROVs spent several days sealing the leaks. Works were completed on April 16, while subsequent inspections operations wrapped up on April 19, according to the French Maritime Agency Préfecture maritime Atlantique.
Premar said that air assets, aided by the EMSA (European Maritime Safety Agency) CleanSeaNet satellite system, would continue monitoring the wreck site for potential spills.
Grande America was sailing from Hamburg, Germany to Casablanca, Morocco, when a fire started in one of the containers loaded on the weather deck on March 10. The crew lost the battle with fire and all 26 crewmembers and one passenger were evacuated onto Royal Navy's HMS Argyll on March 11.