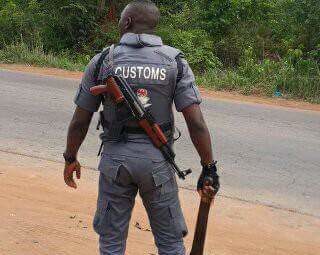 Clearing agents operating at the Tin Can Island Port have raised alarm over alleged interception of duly cleared containers at the ports by officials of the Nigeria Customs Service Federal Operations Unit, Zone A, Lagos. 
The against accused the Customs officials of intercepting and subjecting containers to fresh checks few kilometres away from the port despite a standing order by the Comptroller-General of Customs that there should be no checkpoints in the port areas.
The agents said the FOU operatives clamped down on containers discharging vehicles at one of the facilities close to the Tin Can Island Port.
Speaking with journalists in Lagos, one of the agents and Chairman, International Freight Forwarders Association (IFFA) Tin Can Island Chapter, Ojo Akintoye said the development is a clear breach of the directive by the Customs boss.
He wondered why containers should be stopped and searched just within few kilometres outside the ports after such containers have been duly cleared.
He said "The FOU operatives came around last week Thursday and yesterday (Tuesday) to pick up a container discharging at National bus- stop which is still within the kilometre given to them by the customs CG within the Port.
"The Executive members are planning to go to FOU and to see their Controller so that we can have a better understanding in the mode of their operation. We believe that if a container is coming out of the port, it has been duly cleared and if there is any shortcomings, we have a lot of customs officers at different unit at the port which I believe would have done what is just and right to that container,"
Akintoye, who although acknowledge that FOU operatives can operate based on intelligence gathering, said IFFA members will resist further attempt to arrest any container discharging at the facility close to National bus-stop, where some agents have decided to offload their vehicles due to the poor state of the ports access road.
"Because of security, if they are working on special information, we cannot stop them but any one that is of no use of been arrested, we will resist it especially those discharging their vehicles at national bus stop," he said.
Akintoye said while multiple examinations of cargoes at the ports gate have reduced, some officers still demand to 'sight containers' thus creating room for extortion at the gate.
"We all know there is no perfect system anywhere in the world but the only thing we have been telling Custom is that we don't want to believe that all containers must be subjected to sighting at the gate. If that is the case, what then is the examination for? ," he quizzed.
He said the association has set up a committee at the Tin Can Island chapter that would be interfacing with Customs, terminal operators and shipping companies on challenges faced by members in the clearance of goods at the ports.