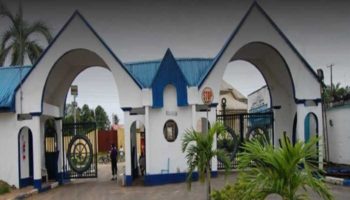 A frontline advocacy group in the Niger Delta region, the Niger Delta Development Initiative (NDDI) has sent an SOS to President Mohammed Buhari condemning the committee set up recently by the Transportation Minister, Rotimi Chibuike Amaechi to restructure the Maritime Academy of Nigeria (MAN) Oron, describing it as "something done in bad faith".
A press statement signed by the President of the association, Comrade Gabriel Thompson and the Secretary Barrister Ita Umiom said the recommendations of the committee which is chaired by former Managing Director of Nigerian Ports Authority (NPA), Chief Adebayo Sarunmi, should be disregarded "as it is capable of igniting fire in the region which has recently become calm".
Outlining the reasons for condemning the committee's report, the group said, "The Sarunmi-led committee is made up of men that have lost touch with modern realities in the maritime industry and as such did not interact with professionals in the industry, some of whom are ex-cadets of the institutions which are now master mariners making waves in and out of the country before making recommendations to the minister.
"These professionals include the best sailors and mariners all over Nigeria who have deep knowledge of how maritime institutions are run internationally.
"The committee was wrongly constituted, because when you put together a committee of such magnitude, you don't bring people that do not have the knowledge of the requirements of STCW (Manilla Convention of 2010 as amended); the laws that guide international maritime activities currently. To that extent, the committee even criticized the IMO standards adopted by the institution.
"There is no way a committee can restructure an institution like MAN Oron without interacting with the critical stakeholders, including the host communities.
"The committee was skewed to negativity because its attention should have been focused on bringing recommendations that should make the academy world class institution that could compete favourably with countries such as Philippine and Singapore whose mariners occupy nearly all the vessels on the world maritime waters.
"Provision of training vessel is critical to the academy because it will enable the cadets to participate in the mandatory sea time experience as required by the STCW Convention 2010; provision of relevant equipment, infrastructures, proper funding, creating enabling learning environment, with qualified lectures are the critical areas that need restructuring and not the human beings in the academy."