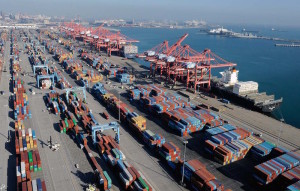 A body known as the Shipping Trade Group (STG), Warri has raised alarm over the dilapidated condition of the once boisterous Delta Ports in Warri, Delta State, saying that no fewer than 15 vessels have been grounded in the port channel in the past five months.
In a letter signed by its President, Ackerman Thilo and Secretary, Obioma Ochulor, and addressed to the Managing Director of Nigerian Ports Authority (NPA), the group said the breakwater at Escravos "is now completely submerged", thereby destroying the buffer between the ocean and the river channel.
This development, according to them, creates room for siltation and negatively impacts on the port channel, restricting the draft to a maximum of five metres.
"More than 15 vessels have gone aground at the Escravos entrance since June this year with its attendant demurrages, man hour loss, hiring of tugboats, and damages to ship propeller," the STG declared.
The group also said that there were no more buoys on the port channel, leading to "frequent grounding of vessels along the channel".
"The non-availability of functional pilot cutter in the Warri/Sapele pilotage district has reached an unbearable and disquieting point.
"Be informed that since 2008, shipping companies operating in Delta ports have been paying for crafts to convey your river and harbour pilots to and fro Escravos and Bennett Island.
"Since then, we have been demanding for refund of such expenses as it amounts to double payment because those payments have already been covered in your provisional bills.
"Through this medium, we are appealing you grant approval to our genuine demand and take over your statutory responsibility of conveying your pilots to and fro their port of primary assignment forthwith.
"On this note, we plead herewith that you provide your personnel the requisite equipment to do their job without expecting us to bear the brunt of your failure," the group added.