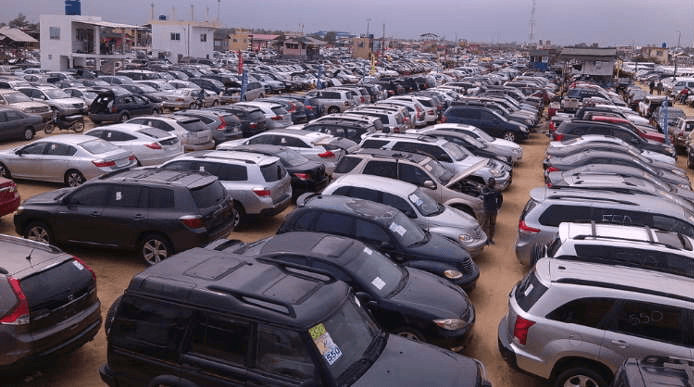 Following Federal Executive Council (FEC), approval for tariff review on importation of vehicles into the country, auto manufacturers, under the auspices of Nigerian Automotive Manufacturers Association (NAMA), have demanded immediate reversal of policy.
The demand was made at a media conference by the Chairman, PAN Nigeria Limited, Ahmed Wadada Aliyu, Chairman, NAMA, Tokunbo Aromolaran, and other stakeholders who accused the Comptroller-General of Nigeria Customs Service, Hameed Ibrahim Ali, of misinformation and misleading the Minister of Finance, Zainab Ahmed, against automobile assembly plant owners.
According to Aliyu, Ali gave wrong statistics about the automobile industry and subsequently got FEC's approval for tariff review on importation of used vehicles, popularly called tokunbo.
He further alleged that the Customs boss was out to intentionally kill Nigeria's automobile industry, based on some of the reasons contained in the 2020 Finance Bill.
He described the tariff reduction as policy somersault based on recommendations made by the Automobile Standing Committee set up by the Federal Government through the Bureau of Public Enterprises, BPE, to examine factors hindering the growth of the automotive industry.
He also disclosed that many assembly plant operators were jittery as a result of the policy because they were exposed to over N100 billion to local banks.
He further stated that the domino effect of this policy on the automotive industry was frightening and going to be tragic, if not reversed immediately.
Aliyu also warned that Nigeria would soon become a dumping ground for all kinds of vehicles that would lead to massive lay-off of employees in the industry, adding that this would further worsen the economic situation in the country.
He said, "The Comptroller General of Customs intends to flood Nigeria with tokunbo used vehicles and ensure the closure of all assembly plants whereas the plants have put in place a car financing scheme for Nigerians to own brand new vehicles at affordable rates.
"The Comptroller General has misled the Honourable Minister of Finance with wrong statistics about the automotive industry and subsequently got the Federal Executive Council's approval for tariff review on the importation of vehicles.
"The action of the Comptroller General is a clear flagrant abuse of the direct access that he has to Mr President.
"We are appealing to Mr President to reverse this review immediately because the effects include tokunbo importers will flood the country with all manner of old and obsolete vehicles; Nigeria will become a dumping ground for all manner of vehicles such as cars, buses, trucks, and others; Nigeria will not be able to compete in the AfCTA trade in the region; Imminent closure of 54 assembly plants in Nigeria with a total capacity of 417, 690 units per annum and loss of 6, 000 jobs; All the investments made over the years by these local assembly plants in excess of over $1 billion imminently goes to waste; All gains made by NAIDP in the past seven years will be rolled back; All local assembly plants will not be able to compete and eventual shut down; and there will be added pressure on scarce foreign exchange reserves."