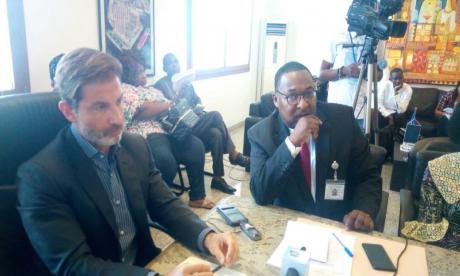 The Managing Director of PTML terminal, Ascanio Russo has again raised concern over diversion of Nigerian-bound vessels laden with vehicles to Benin Republic as a result of the Federal Government's automotive policy.
Speaking when the Executive Secretary of the Nigerian Shippers' Council (NSC), Hassan Bello, led some management staff on a working visit to the terminal in Lagos on Monday, Russo said over 50 percent of the vehicles destined for Nigeria are now discharged in Cotonou port to avoid the high tariff imposed by Nigeria.
Russo, while reiterating the need for government to create favourable trade policies, said since the implementation of the auto policy, the number of vehicles legitimately imported into the country has drastically reduced.
He said, "There should be favourable trading policies on the part of the government especially with the so-called automotive policy. If you increase the rate of duties of vehicles almost overnight by over 100 percent, of course, no matter how much you want to be compliant, there is no way you can afford to pay this amount of duties and so you have two options, either you try to cut corner with customs or you smuggle through the neighbouring port.
"Most of the vehicles destined for Nigeria are smuggled through the neighbouring port. We operate as Grimaldi lines in different countries including Cotonou and we see what is happening there. We have the figures. So I can tell you that over 50 percent of the vehicles which are destined for Nigeria are now discharged in Cotonou port. Why is that? It is because it is too expensive to clear these vehicles in Nigeria and the bottom line is that people cannot afford to pay it, no matter what we say, they cannot afford it.
"Despite the fact that the automotive policy was introduced since 2014, four years down the line, I am yet to see these tens of thousands of vehicles assembled in Nigeria. The bottom line is not even the availability of these vehicles, it is the price. Who can afford a made in Nigeria vehicle when this vehicle cost N10 million? This is the reality. The reality is that most of the vehicles that are sold in the market are perhaps in the range of N2 million and these are tokunbo vehicles.
"There should be a trade policy, which facilitate the importation of these vehicles, so that the masses can have access to vehicles and the Federal Government can maximize its revenue. Presently, there is a huge leakage of revenue which is going to our neighbouring countries and it is very frustrating because these vehicles are coming back to Nigeria.
"The number of vehicles coming to Nigeria has come down dramatically. Six years ago, the quality of imported vehicles was decent and in good condition but now, what you see is accidental cars because they pay low level of duties. So what we have seen is that all the rubbish is coming to Nigeria whereas all the good vehicles which would pay much more duties are going to Cotonou and we are not gaining anything. The Federal Government lose, Customs lose, Shippers' Council lose, NIMASA lose and the whole country loses but mostly are the Nigeria people because these vehicles will be more expensive. This is why there is high level of non-compliance and why cargo is diverted to other ports."