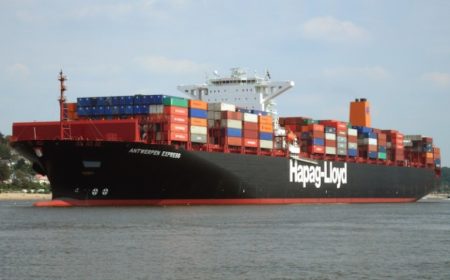 German container shipping giant Hapag Lloyd on Monday said increased transport volumes, improving freight rates in the second half of 2018 and ongoing cost savings after a merger with rival UASC in 2017 were responsible for a 32 percent rise in operating profit before interest and tax (EBIT) in 2018.
Preliminary earnings released on Monday by the Hamburg-based shipping firm showed EBIT rose €443 million ($502.81 million) in 2018, while earnings before interest, taxes, depreciation and amortisation (EBITDA) witnessed an 83 percent hike to 1.138 million euros.
It said revenues in the review year rose by 15 percent to €11.5 billion and transport volumes were up 21 percent at 11.9 million tonnes twenty-foot equivalent units (TEU).
Hapag Lloyd added that bunker prices rose 18 percent to $421 a tonne from $318 previously.
The World Trade Organization (WTO) in its quarterly outlook indicator released last Tuesday said container port throughput has remained relatively buoyant.
The WTO attributed the buoyancy in container shipping to a front-loading of imports ahead of an anticipated increase in US-China tariffs among other factors.
Source: Reuters