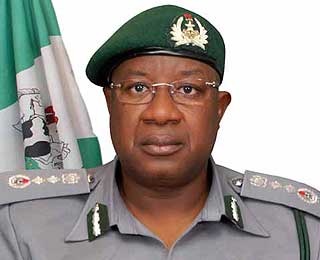 Retired Assistant Comptroller General of Customs Charles Edike and former National President, Association of Nigerian Licensed Customs Agets (ANLCA), Prince Olayiwola Shittu, have mourned the late Comptroller General of Customs, Dikko Inde Abdullahi, describing him as a "good man" and a "highly detribalised leader".
Dikko, who headed the Nigeria Customs Service from 2009 to 2015, died in Kastina on Thursday at the age of 60.
Edike, who served as Comptroller Apapa Customs Command and other commands during Dikko's reign, said the late Customs CG stepped on toes to protect government revenue.
He said, "The good man is gone. Because of his love for Nigeria, Dikko stepped on many toes to protect government revenue. He was a highly detribalised man. Throughout my stay as Controller from PTML, to Post Clearance Audit (PCA), Joint Task Force of Customs, ICPC and EFCC to Tin Can Island Port, Airport and Apapa commands, he did not in any day use harsh or abusive words on me.
"He corrects with love and he loves excellence. He loved and stood for competence. He also touched many lives.
"He reformed the Service because Customs had already started paperless operation during his tenure although clearing agents still want to be carrying paper but in the system it was paperless and with that a clearing agent can sit in the comfort of his office and lodge his Single Goods Declaration Form (SGD)."
Edike commiserated with the Comptroller General of Customs, Hameed Ali and the people of Kastina State over the loss, urging them to be consoled by the fact that Dikko lived a good life.
Also speaking, Prince Olayiwola Shittu described the late Dikko as a good man who contributed to the transformation of the service and training of Customs brokers.
"Dikko was a good man who did his best while he was alive. He brought some reforms to the Customs including the introduction of the Pre-Arrival Assessment Report (PAAR).
"He was a listening man. He was able to meet with us on request as many times as possible and he contributed in no small measure in encouraging us for training and he made Customs to contribute to the training of Customs brokers," he said.
Dikko, who died on Thursday February 18, was buried in Abuja the following day.