Whether it involved exceedingly heavy propellers for container ships, a huge flare-stack pipe for the oil and gas industry, or helicopters that almost fly onto the ship: No transport is too big, too heavy or too hard for Hapag-Lloyd.
During its recent call at Hamburg's CTA, the "Antwerpen Express" (13,200 TEU) traded one Special Cargo for another: While one propeller had made its way to Hamburg from Shanghai, another was loaded on board the same ship to head toward South Korea. The 166-ton propeller headed for South Korea was loaded by a floating crane onto the 366-meter-long ship. The crane hoisted the 166-ton load over the ship's side and placed it on a pre-prepared layer of flat racks, and then the propeller (with a diameter of more than 10 meters) was expertly lashed.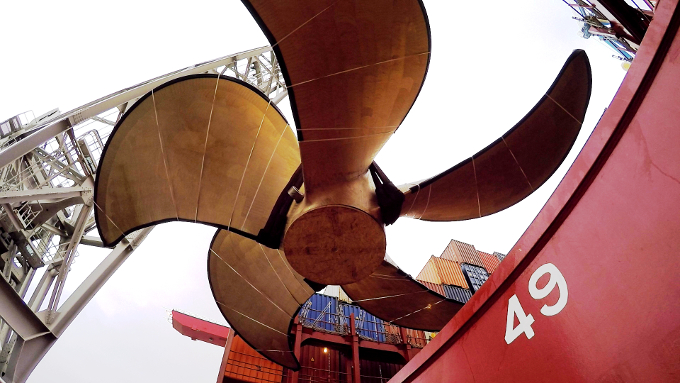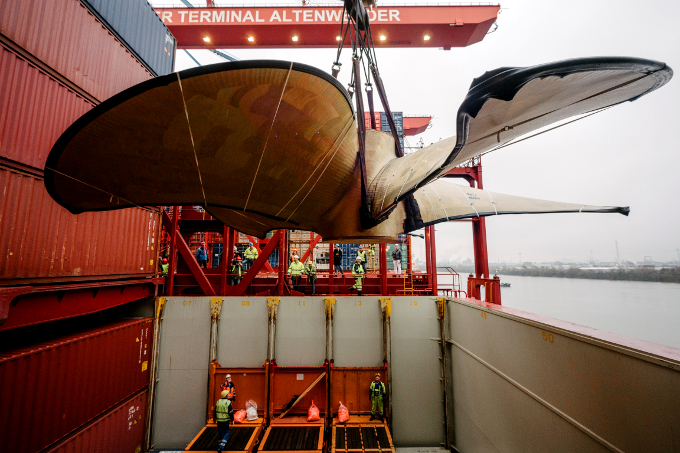 A "spare tire" for container ships
Immediately thereafter, the swimming crane moved just a few bays down. There, among some other OOG shipments, another similarly heavy load was waiting: a 92-ton propeller from Shanghai with a 9.20-meter diameter. This propeller is something like a "spare tire" for 13,200 TEU ships, the largest in Hapag-Lloyd's fleet. The reason is that, if a ship's propeller were damaged, Hapag-Lloyd would have to take the vessel out of service for as long as it would take to either repair the propeller or, in the worst-case scenario, to have a new one made – which can last up to six months. This is exactly why Hapag-Lloyd now has an additional replacement propeller ready in a warehouse in Hamburg.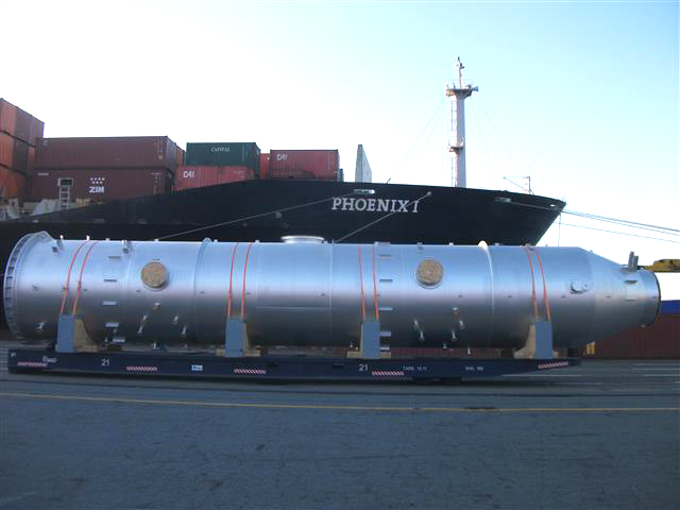 "Phoenix I" headed to Texas with huge flare stack
The "Phoenix I" (4,389 TEU) transported a flare-stack pipe with impressive dimensions from the Italian port city of Genoa to Texas. The metal pipe is 21 meters long, has a 4-meter diameter and weighs in at 40 tons. The flare stack, which was shipped in one piece, stretches across nine container slots. The "Phoenix I," a 282-meter-long freighter operating in the Mediterranean Gulf Express (MGX) service, arrived in Houston on November 25. Once there, the flare-stack pipe is supposed to be put to use in the oil and gas industry of Texas. Due to its size, the cargo's land transportation, from the northern Italian municipality of Montodine to Genoa, had to be conducted at night and with a special permit. After that, the subsequent loading of the flare-stack pipe, which was securely stowed in the hold, took three hours to complete. A strong wind of up to 40 knots during the loading required all parties to be particularly alert.
The pilot directly landed the helicopter on a 40-foot flatrack. After that, a team of specialists dismantled its rotor blades and tied it down.
Helicopter on board
Sometimes Hapag-Lloyd's cargo almost flies straight onto the container ship: In addition to the standard containers, a helicopter was on the "Montreal Express" (4,402 TEU) for the seven-day voyage from Montreal to Antwerp. Loading the helicopter in the Canadian port demanded precision work. First, a pilot accurately landed the Bell 429 on a 40-foot flatrack outfitted with a wooden pallet. A team of specialists then dismantled the rotor blades and tied down the approx. 2.4-ton helicopter and covered it, before the aircraft was hoisted on board and started its seven-day journey across the Atlantic.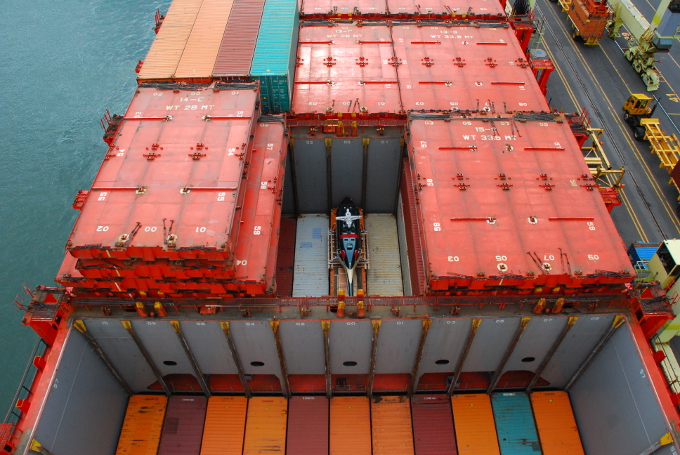 At the end, the helicopter was hoisted on board and started its journey across the Atlantic.
Source: Hapag-Lloyd AG
Copyright Ships & Ports Ltd. Permission to use quotations from this article is granted subject to appropriate credit given to www.shipsandports.com.ng as the source.