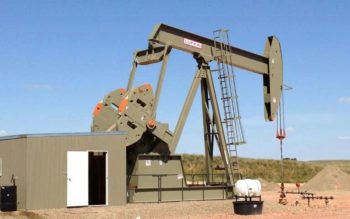 Algeria's 2017 energy export earnings rose 18.42 percent to $33.06 billion as higher crude oil prices offset lower volumes, a central bank report showed on Tuesday.
That helped reduce the North African country's trade deficit by 28.9 percent to $14.33 billion, it said.
Oil and gas export volumes fell by 2.88 percent to 108.48 million tonnes of oil equivalent, the report showed.
The OPEC member is a major gas supplier to Europe and relies heavily on revenue from energy exports. They account for 95 percent of its total exports and 60 percent of the state budget.
However, foreign companies have largely stayed away in recent years, citing bureaucracy and tough contract terms, causing a stagnation in Algeria's oil and gas output. The energy sector grew 7.7 percent in 2016 but its performance fell in 2017, the bank said, without providing details.
To improve output, the government has started drafting amendments to the energy law, vowing to introduce more incentives for foreign investors.
It is also in discussion with foreign firms, including BP and Anadarko, to help exploit shale gas reserves.
Growing consumption levels in the nation of 41 million people has also contributed to a rise in its import bill for refined products, which rose 53.8 percent to $1.90 billion, the report said.
Algeria has been modernising its five refineries and plans to build new ones with the aim of meeting domestic demand and exporting the surplus.
It has also signed a deal with the world's largest oil trader, Vitol, to refine quantities of its crude oil abroad.
Algeria's non-energy imports fell by 1.4 percent in 2017, the central bank said, reflecting restrictions aimed at reducing spending.
Agency Report