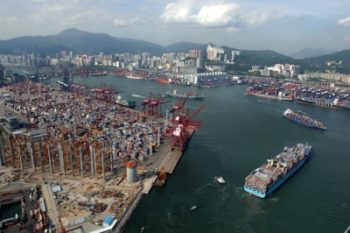 The Hong Kong Shippers Council says it welcomes the territory's Competition Commission's decision to grant a block exemption to voluntary discussion agreements (VDAs) among container lines.
It further cautioned that the conditional block exemption order granted to vessel sharing agreements (VSAs) must be properly monitored.
The council said, "It is correct not granting an exemption for VDAs which are entirely anti-competition in nature. The main function of VDAs is to facilitate discussions and agreements among member shipping lines over commercial matters including pricing. VDAs, entirely anti-competition in nature, remain a core of any competition considerations.
It further added that "the council supports the Competition Commission's decision of not granting a block exemption order for VDAs."
The council also pointed out that with big mergers in the liner space and the world's top four shipping lines now accounting for over 70% of total capacity, "the shipping market has become highly concentrated and shippers interests are at risk".
"In a highly concentrated market, it is a duty of the authority to ensure that the interests of users – shippers in this instance, be properly protected," the council said.
The council further added that the 40% market share cap for an alliance "is absolutely needed" and commented that giving alliances a buffer to reach 45% of market share for two consecutive years "is very lenient indeed".
It also warned that proper policing of non-collusion over pricing and other anti-competition activities must be maintained and enforced. "The Council looks forward to seeing details of the regulatory mechanism," it said while adding that it thought the  five-year review requirement is suitable
"The Council considers that it is proper to review the block exemption order by or before August 2021," it concluded.
Meanwhile Ince & Co issued an advisory saying that "parties involved in VSAs need to assess their commercial arrangements to determine whether the VSA falls within the scope of the block exemption order".
It also warned companies or parties involved in VDAs to "assess the nature of the VDAs carefully to ascertain whether the nature and content of discussions falls within what could be considered acceptable by the Competition Commission".
Copyright Ships & Ports Ltd. Permission to use quotations from this article is granted subject to appropriate credit given to www.shipsandports.com.ng as the source.