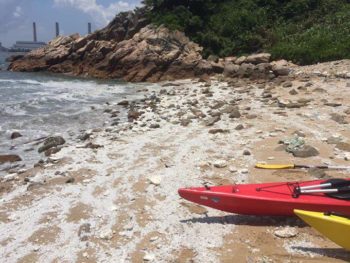 Hong Kong has closed more than a dozen beaches after a palm oil spill washed foul-smelling, Styrofoam-like clumps ashore, the latest major environmental disaster to blight the territory's waters.
The Chinese-controlled city closed two more beaches in the south of Hong Kong island on Tuesday, bringing to 13 the total shut since two vessels collided in the Pearl River estuary.
It took two days for mainland Chinese authorities to inform Hong Kong about the collision, the government said. Media said the accident happened on Thursday.
The spill has sparked outrage among some residents and environmentalists and comes just a year after mountains of rubbish washed up on Hong Kong's beaches, with labels and packaging indicating most of it had come from mainland China.
It also comes at the height of summer, when beaches and outlying islands are packed with day trippers, campers and holiday makers, especially at weekends.
The Hong Kong government said it had collected 50 tonnes of oil so far, most of it congealed, while workers scooped up 110 bags of palm oil waste on one beach alone on the popular Lamma Island.
Conservation group Sea Shepherd said there had not been a spill on this scale in Hong Kong, as the clumps kept spreading. The impact on fish farms, helping to meet huge demand in Cantonese restaurants in the densely populated territory, was not immediately clear.
Environmental groups said that oil has seeped up to four inches (10 cm) deep into Hong Kong's sprawling, sandy beaches making it difficult to clean.
Samantha Lee, conservation manager at the World Wildlife Fund in Hong Kong, said that while palm oil is thought of as non-toxic, it would oxidize under Hong Kong's hot sun and it was not clear how harmful the new substance would become.
Apart from beaches which have been shut, the rest of Hong Kong's verdant shoreline is likely to have been impacted with the feeding capabilities of many sea creatures such as barnacles, crabs and shells affected, Lee said.
The possibility of algae bloom which would compete with fish for oxygen would be a huge threat.
Gary Stokes, a director at Sea Shepherd, said the consumption of palm oil in concentrated forms could be hazardous and said the accident was akin to the severity of a marine disaster in 2012 when hundreds of millions of tiny pellets washed up on beaches following a container spill during a typhoon.
"Fish are having a feeding frenzy on the palm oil. We are still waiting to see the results of the impact on them," said Stokes, adding that he observed large clumps of palm oil floating in the middle of fish farms in the former British colony.
Media reported that 1,000 tonnes of palm oil spilled into the water after the vessels collided.
The Environmental Protection Department has collected water samples from affected beaches and said it planned to release its results later in the day.
The government said in a statement that palm oil was non-toxic and harmless, but given the large amount that had washed up on beaches and the fact that the laboratory results were not yet available, the beaches would remain closed.
Hong Kong's coastal waters and beaches are often strewn with rubbish from mainland China, where some companies discharge waste into the sea to save the cost of proper disposal, according to conservationists.
Copyright Ships & Ports Ltd. Permission to use quotations from this article is granted subject to appropriate credit given to www.shipsandports.com.ng as the source.