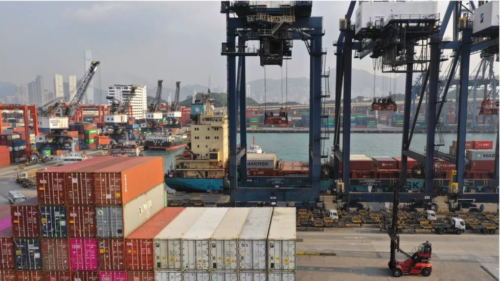 Hong Kong chief executive Carrie Lam announced a raft of incentives and measures for the maritime and shipping sectors in her 2018 policy address, including for ship leasing, marine insurance and the ship registry.
With container port volumes on the decline in Hong Kong the government is looking to capitalise on its strengths and opportunities from China's Belt and Roard Initiative and the Greater Bay Area development to grow its maritime services industry.
"Although there has been a declining trend in the container throughput of Hong  Kong Port in recent years, we still have our advantages, which include a long-established maritime tradition, our geographical location, and the clustering of shipowners, shipping companies and maritime services sectors," the address said.
"The Hong Kong Shipping Registry (HKSR) provides shipowners with round-the-clock quality services throughout the year, and its shipping register comes fourth in the world in terms of gross tonnage of ships on the register. Ships registered in Hong Kong are well-recognised as a high quality fleet in the international maritime arena."
With the new measures Hong Kong aims to make itself the ship leasing centre for Asia Pacific trough using tax measures which the Hong Kong Maritime and Port Board will set up a task force to devise details.
It will aslo provide tax reliefs to promote the development of marine insurance and the underwriting of specialty risks in Hong Kong as well as streamlining regulation for the operation of protection and indemnity clubs for shipowners.
There will be facilitation and measures offered to Hong Kong's provision of dispute resolution.
There will be regional desks set up for the Hong Kong Ship Registry give more direct and prompt support to shipowners, and promote the registry.
Some HKD200m will be into the Maritime and Aviation Training Fund to improve training and bring through talent.
Hong Kong will also study to attract more shipowner and manager principals to set up shop on its shores.
"Our maritime sector has also suggested that the Government should consider implementing additional measures to encourage more commercial principals of the maritime industry (such as shipowners, ship operators and ship managers) to base their operations in Hong  Kong. Given that the commercial principals are involved in a wide range of businesses, we need to further examine the proposal," the address said.
The Transport and Housing Bureau has been tasked to take the lead in putting foward "feasible proposals" as soon as possible.
Attracting shipowners and operators to set regional and global headquarters under the Approved International Shipping Enterprise Scheme was one of the key elements In Singapore's rise as an international maritime centre. 
Copyright Ships & Ports Ltd. Permission to use quotations from this article is granted subject to appropriate credit given to www.shipsandports.com.ng as the source.