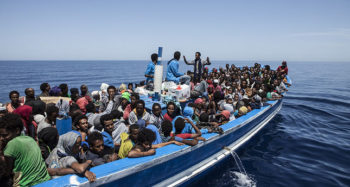 Compiled by Oluwatoyin Amao
The federal government should consider the power supply because it is the responsibility of any government to create the enabling environment for businesses to thrive and for new ones to spring up, thereby creating jobs for its citizens. One major factor is light (power supply), many industries in Nigeria are shutting down and laying off their workers because of poor power supply; the excuse is that they spend a large percentage of their profit on buying petrol and diesel for their operations and this in turn has helped increased the unemployment situation in the country. It is an indisputable fact that it will be very unattractive for people to travel through the Mediterranean Sea to seek better alternative economic opportunities if they are positively and gainfully employed in this country. This gives credence to the fact that humans will always seek for conducive environments to thrive.
Also, in Nigeria today, there are conflicts ravaging different areas/regions of the country and most prominent of them is the boko haram and the herdsmen killings in the Northern parts of Nigeria and some parts in the South West and South East of the country, these conflicts has caused people to flee their homes and villages, thereby migrating from one place to another for safety and travelling through the Mediterranean Sea is the aftermath of one of such. These conflicts in these regions have also scared away many foreign and local investors and because of this, our economy has been adversely affected. The government should therefore restore sanity in these areas with conflicts by punishing those causing and sponsoring these conflicts in order to deter others from such criminality, as no country can make meaningful headway where conflicts thrive. If the our leaders can adhere seriously to these points, there will be reduction of Nigerians crossing the Mediterranean Sea out of desperation.
Emeka Obefe
Ojodu, Lagos
The Nigerian government need to create job opportunity especially for the youths, work on the economy by making it a safer place for the citizens and also basic amenities should be available to everyone.
Steve Omoburuwa
Benin
Citizens crossing to the sea are faced with the difficulty in securing legal visas to other countries because of the porous security regulating our border areas with other countries. Therefore, what the Nigerian government should do is to look into the security around the border areas; they should go into bilateral agreements to ensure better visa access to other countries and improve economic affairs within the country.
Supreme Unukegwo
Akoka, Yaba
The movement across the Mediterranean Sea is informed by social and economic insecurity in the country. The leaders need to give Nigerians reasons to believe in the country through the provision of jobs, security, social infrastructure and affordable/qualitative health facilities.
Emmanuel Ikpelemoh
Lokoja
I believe if all the basic infrastructures and social amenities are put in place, it will make life easier for the average Nigerian and no reasonable Nigerian would want to risk his/her life on the sea. I believe that's the best way the government can reduce the rate at which Nigerians travel through the Mediterranean Sea.
Ayo Daniel
Calabar
Once opportunities are created for the citizens, it will automatically reduce the rate of Nigerians travelling or smuggling themselves out through the sea. Hence the government have to work on itself to create employment and empower the youths and also our borders need to be properly secured.
Gladys Eleojo
Kaduna
The government could start by putting securities around those borders. However, if the government provides the people with jobs, most people wouldn't think of travelling to other countries and if the Federal government have tried blocking borders and it's not working, why not increase opportunities for migrants to travel by making it legal. Many migrants would wait to travel legally instead of risking their lives on the Mediterranean Sea; most migrants just want a better life for themselves and their families. When they travel, they create jobs and make money. It is said that the remittances from migrant is up to 450billion dollars in a year which takes care of their family in their land.
Amehzi Ishike                       
Gbagada, Lagos
In the first place, I will not subscribe to the idea that Nigerian government has to do everything. People need to take responsibility for their lives and their actions, our leaders need to continue to create and support entrepreneurship development opportunities especially those targeted at the age bracket most prone to this dangerous trend.
Augusta Nwokafor
Lagos
Nigerian government should provide job opportunities for the teeming jobless youths to discourage them from taking the suicidal route of going to Europe at all cost, provide an enabling environment back home for the youths to actualize their hidden potentials; there should be enabling environment in terms of provision of critical infrastructures such as constant power supply, good road network, affordable health care system e.t.c. Another way is for the Federal government to partner with the countries in North Africa to help block those illegal routes Nigerians seek before they get to the Mediterranean Sea. It is also important for the leadership to lead by example by believing in the country and if the president travels abroad for mere headache, it discourages the youth in a way because they seem to lose hope in our health institutions and even other institutions of the state.
Lola Adelaja
Lagos
I believe knowing the facts, needs and what is paramount to individuals in the society at large should be examined, questioned and discussed at length. When the basic human needs of the western world is weighed alongside that of Nigeria you will realise and know that there is no growth in our society. Nigerians should be made to understand the risk of embarking on such a journey which danger percentage is about 95% with a slim percentage of survival, also taking empowerment to the grass root level. Looking at our immediate surroundings and opening our eyes to what we have can also help retain citizens to stay and live in the country without taking such a gruesome decision to travel by sea. What the government can do is enlighten citizens through sensitisation, orientation and awareness; create an enabling environment by making the society comfortable for citizens; ensure economic, political, legal and social stability; technology growth; social infrastructure and there should be constructive ties with the European nations
Khadija Adetutu
Lagos
It is no longer news that Nigerians from all parts of the country are constantly making effort to leave the most populated black nation for greener pastures in other parts of the world especially Europe. It is high time our government wake up from its slumber and stop this illegal migration through the Mediterranean Sea. The government have a lot to do in terms of discouraging this frustrated Nigerians from killing themselves just because they want to leave their fatherland. The first major issue to address is abject poverty and the alarming rate of unemployment in Nigeria. The poverty rate in Africa is so high to a despicable state in which millions of Nigerians are living under one US dollar per day, the economy need to diversify from mono economy that relies only on crude oil to an economy that will have a lot of youths enjoying and delving into the agricultural sector. Furthermore, local industries should be encouraged by providing loans to small medium enterprise (SMEs) and promoting made in Nigeria goods. The country should drive towards export promotion to generate more revenue for the country and channel it to the provision of basic amenities like electricity, goods roads and pipe borne water to millions of Nigerian because I will be forgiven to insinuate that basic amenities are part of the reasons why foreign land looks attractive to Nigerians. The beast called corruption must be adequately addressed in such a way that it will be devoid of religious sentiments and ethnic chauvinism and lastly the government must and should ensure that security of lives and properties of Nigerians is paramount in all their agendas. The killings in the North east and most recently in Kaduna south by Fulani herdsmen is a condemnable and dastardly act that the government must prevent its reoccurrence in the nearest future. If the aforementioned factors are well considered and addressed, millions of Nigerians will stay in this country instead of embarking on suicide mission called journey via the Mediterranean Sea. The government should not continuously portray its epic description by the German socialist Karl Marx as instruments of oppression by the ruling class so as not to encourage some depressed, poverty stricken and dejected citizens from living the country by all means.
Abdulrasheed Yusuf
Lagos
The Nigerian government should encourage youths to become self employed by providing facilities needed for them like loans, trainings and they should also inform citizens of the risk involved in crossing the Mediterranean Sea by putting up public awareness on print and electronic media.
Oluwafolakemi  Sojonwo
Akoka, Lagos.
Copyright Ships & Ports Ltd. Permission to use quotations from this article is granted subject to appropriate credit given to www.shipsandports.com.ng as the source.