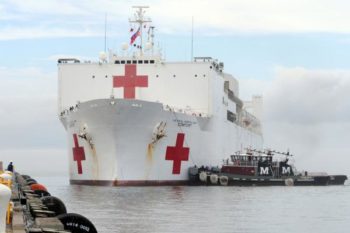 By Jite Eriabie
The Military Sealift Command hospital ship, USNS Comfort (T-AH 20), departed Naval Station Norfolk on Friday and is now underway to support relief efforts in the aftermath of Hurricane Maria in Puerto Rico.
USNS Comfort could arrive in Puerto Rico as early as October 3, but the final date and arrival location is to be determined, the Navy said in a statement.
USNS Comfort departed Naval Station Norfolk with over 800 Navy medical personnel and support staff with the medical treatment facility (MTF), and over 70 civil service mariners. The medical personnel are capable of providing a full spectrum of medical care including general practice, family medicine, nephrology, and pediatrics.
"The medical capability the ship can deliver can be done underway, it can be done in port, or it can be done at anchor. Between the helicopter capability we have and the boats we have, all of those things together give us the ability to be flexible in our mission," said Capt. Kevin Robinson, commander, forward command element aboard USNS Comfort.
Comfort's MTF is an embarked crew of medical personnel from the Navy's Bureau of Medicine and Surgery, which is responsible for operating and maintaining one of the largest trauma facilities in the United States.
"48 hours ago there were less than 100 people onboard this ship that included civilian mariners and medical treatment facility personnel. Over the past 36 hours, we have flown medical professionals and their support personnel from all over the country and the number of people onboard right now is over 800," said Robinson.
USNS Comfort is the second of two Mercy-class hospital ships. A converted San Clemente-class supertanker, Comfort delivered to the Navy's Military Sealift Command Dec. 1, 1987. Civil service mariners operate and navigate the ship, load and off-load mission cargo, assist with repairs to mission equipment and provide essential services to keep the MTF up and running.
Also on Friday, the U.S. Navy ordered the amphibious assault ship USS Wasp (LHD 1), which has been providing support of post-Hurricane Maria relief operations in Dominica since Sept. 29, to join relief efforts for U.S. territories in the Caribbean.
The Comfort and Wasp join the USS Kearsarge (LHD 3) and USS Oak Hill (LSD 51), which departed Norfolk, Virginia on August 31 to support relief efforts in the aftermath of Hurricane Harvey, but were redirected to be in a position to support efforts in the aftermath of Hurricane Irma.
Copyright Ships & Ports Ltd. Permission to use quotations from this article is granted subject to appropriate credit given to www.shipsandports.com.ng as the source.