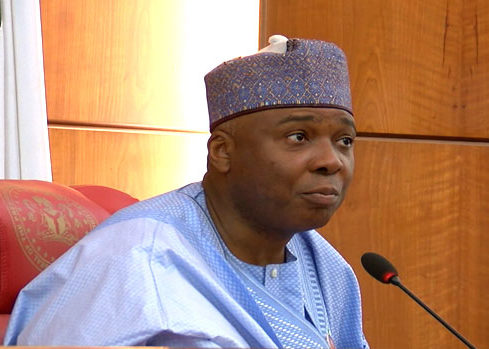 If you quickly pan your eyes camera through the global media landscape, you would be amazed at what you would capture. The misdeeds of some leaders and how the term "hurting democracy" is assuming the status of everyday usage and salience would be prominent among what you capture.To buttress this claim, it may be helpful to cite a few examples of recent news captions with this term. On March 10, 2017 theWashington Post published an opinion; "How President Trump has already hurt American democracy — in just 50 days". On February 13, 2018 the East Africa Monitor published a news story, "Tanzania: Church accuses government of hurting democracy".  The San Antonio Express on January 31, 2018 affirmed; "Trump's conspiracy theories hurting democracy."
Let us come home. Last week, the media was awash with the audacious claim of Senate President, BukolaSaraki. He noted that the conducts of "some persons in the administration of President MuhammaduBuharihurts Nigeria's democracy."Due to our proclivity to politicize everything, it may be counterproductive to consider the immediate issue that informed his comment. However, it is important for us to pause and ponder on what could hurt democracy.
The beauty of democracy is artificial and uninspiring anywhere the rule of law bows to the rule of man. In fact, the worst form of misrule happens when men rule the law. And because democracy is not infallible, men do rule the law in democratic contexts.When men rule the law the violation and denial of rights become a norm. It makes chain an emblem of freedom. It makes the horrific art of hushing counter perspective honorific. Also, ideals become taboos. Sycophants become gatekeepers. They determine information flow, access to power, and the politics of resource allocation. Sycophants hurt democracy.They sing in unison the praise of men in power, and make them averse to the voice of reason, particularly, when it does not massage their ego. This presents a hidden danger; for,democracy is tyranny in disguise anywhere homogeneity of views is a goal of power holders. A leader that does not shun sycophants is doomed to meet his or her waterloo before his moment of apotheosis.
Many things are capable of hurting democracy. Violence is on the list. Vote and violence are not mutually inclusive. The lusters of Nigeria's democracy cannot enduringly enchant foreign investors as long as we do not defy the governing assumption that if voting does not ignite chaos it is anticlimactic.
As political activities leading to the elections of 2019 buildup, there is the fear that violence will be rife in our political landscape. If history is allowed to repeat itself this fear will become a reality, and certainly it would undermine our democracy. In Mustafa Anuar's view,   "Violent behaviour at public forums harms democracy, which should provide public space for civilised dialogue, discussion and debate."  Whatsoever stifles civil discourses is antithetic to the spirit of democracy. Democracy thrives when counter perspectives and ideologies are peddled without fear of attack.
The lack of internal democracy in many political parties in Nigeria undermines democracy. When political parties are tyrannical in their operations and processes of selecting leaders and candidates they caricature democracy. From all indication, the lack of internal democracy in most political parties will have untoward influence on the quality of candidates that will run for various offices in the elections scheduled to hold in 2019.
Nothing hurts democracy like the defiance of power drunk leaders. When leaders cling to power when they have outstayed their usefulness,the economy suffers, democracy regresses, and people become restive. Robert Gabriel Mugabe's hero to villain story as the Time Magazine puts it demonstrates this truism. Jacob Zuma is worthy of mention as well. Thankfully he harkened to the voice of common sense before it became too late. What is unclear is how history will judge him. Will it entomb him in ignominy?Willhe be consigned to the ignoble order of profligate political leaders who exalted their private interest above the common good?Time will tell.
Legacies of excellence are fleeting when leaders drift from the ambit of ethical conducts to darkrooms of corruption, to the borderlines of prudence, or to the gray space ofmoral relativism. This is true even if the drift is more of perception than reality. This sentiment is not difficult to understand, particularly, for those who monitored Stephen Sackur interrogating Former President, Chief OlusegunObasanjo, on HARDtalk recently.  The interview sought to know if Africa has "leaders capable of solving Africa's problems."Stephen Sackur questioned Obasanjo's "credibility as a regional statesman."Citing the alleged exchanged of cash for third term agenda, he questioned the moral excellence of Obasanjo and his campaign for good governance and anticorruption. Thankfully, Obasanjo, the scholar and the warrior is not a lame duck.
Democracy suffers grave injuries when leaders are corrupt or perceived to be corrupt. The crisis of confidence rocking the 68-year-old IsraeliPrime Minister, Benjamin Netanyahu is an example of the ruinous effects of corruption or perception of corruption to the image of a leader. When we think less of leaders their ability to lead may be attenuated.  This is because, regardless of a leader's competences, true leadership cannot be provided without trust. Trust is a vital pillar of democratic leadership. Netanyahu, who is in his second stint as prime minister, and has rendered service to his nation in that capacity for 12 year may bow out of office in less honorable circumstances, if the narrative of the police is true. If it is untrue, his capacity to lead effectively and collaborate across broad spectrum would have diminished because of reputational damage.
Populism hurts democracy. Since, populism means many things to many people; it may be wise to explain what it means in this context. Populismas an Ideological construct creates two distinct classes in society; the good class and the bad class, the masses and the elite, the oppressors and the oppressed, there is hardly a middle ground. Hence, populism could be seen as the other side of the coin of illiberalism; a certain illiberalism that turns difference to a source of conflict. It aspires to be a homogenizing force by antagonizing difference. Sameness is the ultimate goal of populism, otherness is its archenemy. The reverse is true of democracy. True democracy celebrates diversity. Plurality of thoughts, creeds, beliefs, cultures, races et cetera emblazon the glory of democracy.
Populism does one thing well; it effectively negativizes all ideals that ordinary people have not inculcated.  In extolling ordinariness populism becomes an enemy of the best. In other words, populism is overhanging anywhere merits is discounted.  Does that evoke a picture of Nigeria?
To be frank, populism is taking root in Nigeria, though; it is not yet an organizing principle of collective or social action. Yet, it is visible in the social pigeonholes we have created. We have created the strata of "the pure people" and "the corrupt elite."It is an empirically proven fact that group characterization is hardly error proof, and always pejorative. It is a wellspring of stereotypes. So, stereotypically we now see poor people as angels of light and rich people as demons among men. Wrong. This could ignite unhelpful class struggle, instead of fostering widespread collaboration that guarantees better life for all.
Whatever demeans democracy cannot exalt humanity. Whatever hurts democracy cannot drive national development. Whatever diminishes the authority of leaders cannot build a strong united nation. To protect democracy from undue harm, leaders must strive to be epitomes of perfection, not in the self-congratulatory way of Jacob Zuma, but in the way of true servant leaders.