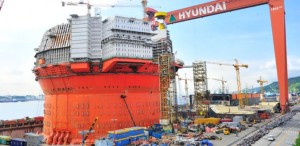 By Jite Eriabie  
Hyundai Heavy Industries, the world's second-biggest shipbuilder, fell by a record following its plan to raise about 1.29 trillion won (S$1.6 billion) selling new shares for working capital.
Hyundai Heavy intends to sell 12.5 million new shares before the end of March at an estimated price of 103,000 won each, a discount of about 24 per cent to the closing level on Tuesday. The stock dropped 29 per cent to close at 96,900 won yesterday, the largest decline since the company was listed on South Korea's mainboard in August 1999.
The fund-raising plan comes as Hyundai Heavy and other shipyards struggle with declining orders amid overcapacity and weak oil prices, forcing companies to reform and spin off some businesses.
Hyundai Robotics, the holding company of Hyundai Heavy Industries Group that was created as part of a restructuring, separately unveiled a plan for an initial public offering (IPO) for its oil-refining unit, Hyundai Oilbank.
"Hyundai Heavy is using the share sale to raise funds it will need as the industry recovers," said analyst Park Moo Hyun from Hana Financial Investment in Seoul yesterday.
"The dearth of orders in 2016 is causing it to have a temporary mismatch in its cash flow amid signs of orders coming back. That will be resolved as it wins more orders."
The final price for the sale, which is open to both new and existing retail and institutional investors, will be determined on March 5, Hyundai Heavy said in a filing after the market's close on Tuesday.
Shares of Hyundai Robotics, the largest shareholder of Hyundai Heavy, fell 3.7 per cent to 360,500 won. Hyundai Mipo Dockyard, another shipbuilding unit of Hyundai Heavy Industries Group, dropped 16 per cent to 77,700 won. It projected an operating loss in the fourth quarter.
Hyundai Robotics, which owns 91.1 per cent of Hyundai Oilbank, will select a lead manager for the IPO with a goal of listing the oil refiner on the Korea Exchange in the second half of next year, the group said.
Hyundai Robotics intends to use the funds raised to strengthen its finances and invest in new businesses.
"The last pieces of the puzzle in the whole revamp effort are coming together," Hyundai Heavy Industries Group said on Tuesday. "Hyundai Heavy's share sale plan will help the company move forward with efforts to improve its financials. The group's structure will also become more transparent with the IPO of Hyundai Oilbank."
Hyundai Heavy plans to use the money from the new share sale to repay debt and to invest in research and development. Hyundai Robotics, which owns 27.8 per cent of Hyundai Heavy, will buy 3.34 million of the new stock.
The shipbuilder said it is projecting an operating loss in the fourth quarter as it builds more vessels for orders won in 2015 and last year.
For the whole of this year, it expects an operating profit of 46.9 billion won following a profitable first nine months. Sales are expected to decline to 13.6 trillion won next year from an estimated 15.4 trillion won this year.
Source: Bloomberg 
Copyright Ships & Ports Ltd. Permission to use quotations from this article is granted subject to appropriate credit given to www.shipsandports.com.ng as the source.