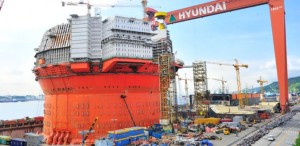 The world's second-largest shipbuilder has split itself into four companies, a move that would facilitate a potential sale of some of the businesses.
Hyundai Heavy Industries Co. started trading as four entities Wednesday as the conglomerate tries to insulate the group from a financial crisis at any one of its divisions. The breakup splits the operations into businesses focused on shipbuilding and offshore projects, electric machinery, construction equipment, and industrial robots. The combined market value of the four companies now is about 16.8 trillion won ($14.8 billion), versus 12.5 trillion won when trading in Hyundai Heavy was halted in March.
"Now, each division is being listed separately," said Paul Choi, head of research for CLSA Securities Korea Ltd. "You can do funding or sell in the market."
The dismantling of Ulsan, South Korea-based Hyundai Heavy is the latest restructuring round in the country's ailing shipbuilding industry, home to the world's top three vessel-manufacturers. The shipbuilders have cut more than 20,000 jobs and sold assets as orders dwindled amid excess capacity and depressed crude oil prices in the past three years that led clients to curtail spending on offshore projects.
Hyundai Robotics Co., Hyundai Electric & Energy Systems Co. and Hyundai Construction Equipment Co. are the three other companies formed after the split.
Shares of Hyundai Heavy rose 15 percent from the adjusted last-closing level to 180,500 won in Seoul. Hyundai Robotics ended the day at 390,000 won, Hyundai Construction at 240,000 won and Hyundai Electric at 280,000 won, according to data compiled by Bloomberg.
Last month, Daewoo Shipbuilding & Marine Engineering Co., the largest shipbuilder based on its orderbook, averted a payment crisis after bondholders agreed to bail out the company. Daewoo, Hyundai Heavy and Samsung Heavy Industries Co. are the world's top three shipbuilders.
"We will focus on growth opportunities for the individual companies," a Hyundai Heavy group spokesman said in response to queries on a possible sale of the spun-off entities. "We will invest for future growth of these units to meet our goal of each becoming a top-five company in their sectors."
Hyundai Heavy was set up in the 1970s, when its first ships were built at a dockyard in a seaside village on South Korea's eastern coast. The new Hyundai Heavy, based on the spun-off structure, had sales of 23.7 trillion won last year, accounting for 60 percent of the group's total before the breakup.
The spinoff cut the shipbuilder's net debt by half and reduced its debt-to-equity ratio to 95.6 percent at the end of March from 106.1 percent at the end of 2016.
"The possibility of selling non-core operations is high as the group wants to focus on the main business and raise funds to support that," said Um Kyung-a, an analyst at Shinyoung Securities Co. in Seoul. "Breaking up the divisions and listing them separately will make it easier to determine their value if and when the group decides to sell any unit."
Hyundai Robotics, the second-largest business by sales after Hyundai Heavy, has become the holding company because it is the biggest shareholder in the other three entities, meeting a Korean fair trade requirement, according to analysts. Hyundai Robotics holds 13.37 percent in each of the three companies and has until May 2019 to comply with a regulatory requirement to increase those stakes to 20 percent.
The group also needs to eliminate some cross-shareholdings among its units to meet stock-exchange regulations. Hyundai Mipo Dockyard Co., a unit of Hyundai Heavy, needs to sell a 7.98 percent stake it owns in each of the four companies, which are considering various measures to comply with the rules, the group said in an emailed response to Bloomberg.
Hyundai Heavy group said last month that it plans to invest 3.5 trillion won through 2021 in technology development to help improve efficiency. Of the total, the shipbuilder will spend 2.05 trillion won, Hyundai Electric 680 billion won, and Hyundai Construction 660 billion won.
The divisional breakup was part of a restructuring plan approved by creditors of Hyundai Heavy group that included selling three financial units and other non-core assets.
The streamlined entities should help the management grow them "independently and more successfully," and attract more investor interest, said Corrine Png, Singapore-based chief executive officer of Crucial Perspective, a research firm focused on Asian transport equities. "Generally, if investors are interested in building long or short positions in the shipbuilding sector, it helps if they do not have to consider the prospects of Hyundai's excavator sales which have completely different sector drivers."
The undivided Hyundai Heavy last traded on March 29 at 165,000 won, before the suspension. That was 70 percent off a closing peak of 547,000 won reached in April 2011.
With the outlook for shipbuilding improving, a "meaningful rebound" in orders can be expected in the second half of the year, said Um at Shinyoung Securities.
"The worst appears to be over for the Korean shipbuilding industry," Um said. "Now that Hyundai Heavy can focus on shipbuilding, this is going to benefit its share price."
Copyright Ships & Ports Ltd. Permission to use quotations from this article is granted subject to appropriate credit given to www.shipsandports.com.ng as the source.