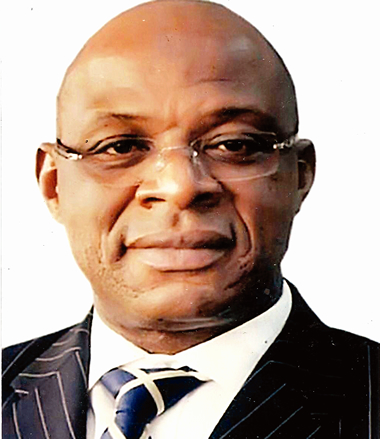 Twelve years after he was removed from office as the Director-General/CEO of the Nigerian Maritime Administration and Safety Agency (NIMASA) by then President Goodluck Jonathan, Mr. Temisan Omatseye said the country has let him down by allowing certain powerful persons to use the institutions of government to persecute him for standing on the side of truth. Omatseye was the DG of NIMASA from July 2009 to December 2010. 
Shortly after his removal from office in controversial circumstances in December 2010, Omatseye was arrested and prosecuted by the Economic and Financial Crimes Commission (EFCC). On May 20, 2016; he was sentenced to five years in prison by a Federal High Court sitting in Lagos after the presiding judge, Justice Rita Ofili-Ajumogobia convicted him on a 27- count charge bordering on alleged bid rigging and for allegedly awarding contract above his approval limit. On May 11, 2017, however, the Court of Appeal Lagos Division quashed the conviction, discharged and acquitted Omatseye. 
In this no-holds barred interview with SHIPS & PORTS' Tosin Aribisala, Omatseye expressed regret over his experience in the hands of the authorities. He also expressed his mind on several other topical maritime issues.
Excerpts: 
What have you been preoccupied with since you left office as the DG of NIMASA in 2010? 
I have been rendering one or two advisory services to people who want a better understanding of some regulatory issues especially when it borders on NIMASA. I also engage in public speaking like the one I did during the Nigeria International Maritime Summit (NIMS). I give talks in conferences I am invited to. So, whenever anybody is in need of my service, I get myself prepared and go.
Can you share your experience with us as NIMASA DG? Was it worth it? Were you able to make an impact? 
Uhmmmm. Well, first of all, I will answer the part on whether I made any impact. You have to understand very clearly that in order for us to be able to have made an impact, there should be a strategy. So, we came up with a clear-cut strategy. One needs to understand the roles and functions of the Nigerian Maritime Administration and Safety Agency (NIMASA) in line with the statute that created the agency. Now, once you have the understanding of that, and the reason why government created the agency, then you now have to ensure you align the functions of the agency in line with the reasons for its creation. So, when you create something, there is a reason for the creation. Therefore, you need to fall on that. When the appointment came, we knew what it was because initially, they were still undergoing a leadership transition. Even though there were enemies, we had to change the culture. So, what we wanted to do at that time was to change the culture, to build a strong institution by creating a very strong organogram, job description, and position placement. That was what we were doing. Another point is that I also appreciated that one needed to also encourage the workers, I mean at NIMASA. At that time, NIMASA never had a condition of service. Hence, while I was there, I gave NIMASA a condition of service. Everybody employed in the agency knows that when you are employed this is your condition of service. There is something you can refer to which got the approval of the Head of Service and the Federal Government and it is now a legal document for NIMASA. I also increased their salary. NIMASA staff take home was drastically increased. We improved the welfare because it's very key. We did a lot of training. Everybody, down to the lowest cadre was trained in order to bring the academic level of everybody up. In the meantime, we were now trying to create a proper maritime administration, which we couldn't achieve but which I think one or two DGs tried to adopt. So, if we are talking of achievement, at least on our own, we laid down the groundwork and basis for continuation. 
Now, do I regret it? That's a very tough question. This is because one has learned that Nigeria as a country has failed to appreciate its people; people that come to serve and serve properly and you end up rubbishing them. I went there very nationalistic, very believing in what I wanted to do, what I wanted to achieve. I went there to serve Nigeria but my payback was very bad. I never went there to enrich myself, which I never did in any case. I just went there to achieve something. I wanted to go there and leave a legacy but others still do not believe that's the way Nigeria should be. What outlives you is your legacy, not your money. So, I'll not lie, I do regret it. I felt this country disappointed me. They let me down. I've lost 10 good years of my life because of the cases I have. I've been on suspension. They've not lifted it, which I have been chasing for the last four years. So, they kept me in this mess. I went into NIMASA at 45, and I am now 57. So, it is natural that somebody would be bitter. I am annoyed but I thank God for the grace of God upon my life. Having gone through all these, sincerely speaking, it has increased my faith in my Lord and Saviour Jesus Christ, and my God. And God kept on telling me whenever anger comes; he kept on reminding me that, have I not been there for you during your court case? Upon all these, I will say that it has been tough. Tough when you considered your days before coming into government that you were comfortable; you were doing very well but the expectation of people is for you to go in there and steal which I never envisaged to engage in. But now that your life is almost a mess, you are now at the mercy of friends and family and someone is almost a beggar on the street. That is very unfortunate. That is very painful because it creates a lot of loss of confidence from your own immediate family. I believe if I had achieved my dream in NIMASA, coming out, people would have appreciated me prompting invitation from international communities beckoning on me to come and work with them. I'm almost certain that organizations like International Maritime Organization (IMO) or United Nations would have seen what I was able to do at NIMASA and they would call me to come and work with them which I would have gladly done because I am more of a technocrat. 
What will you consider as your major achievements as NIMASA DG?
The most important thing for me then is staff welfare. And once, you achieve the staff welfare, which we achieved, all other things would be sorted out. Another plan then was to have a career path for workers. The organogram tells you this is where you are supposed to be. These are the courses you need to take. Just like we have in the Nigerian Army where you take some certain courses before you get to the Major General level; we had that as plan. So that when you as a staff undergo all those courses, you would have met with the requirements or training you need to do. So, even if there is an advert for an international job, because you have met all those requirements, you can now apply and necessarily go for cross-posting to an IMO, UN, or international body and maybe later do a four-year sabbatical and come back again to NIMASA and continue your career journey.  So, that was what we wanted to achieve but we couldn't because the DG can wake up tomorrow morning and pick up an Engineer and post him to Human Resources. An engineer should be in the operations unit, not HR. We tried to establish and imprint in the heart of the staff how the agency should run regarding having a career path. 
What are your greatest regrets? What will you want to do differently if you get the chance to return to that office?
Well, I would be more political. I had a kind of British training. The white people are reasonably rigid. They see things in black and white. I also see it that way but a Nigerian would ask, can't you see a bit of grey colour in it? I don't see the grey aspect. I say it as I see it. I will always tell you the truth but it might hurt. However, it is better the truth hurts and you deal with it than to lie for you and just to boost your ego. So, I guess maybe I will be more political and calmer in my expression. Naturally, I will do more delegation, which I do anyway. I will have to myself a lot of people who are versed in the industry as my advisers. I don't believe in sycophancy. I will rather have very intelligent young people who will keep me on my toes. When it comes to technical, what should be done or what has to be done, I know what to do and what has to be done. I know people to meet internationally and locally to make things happen within the shortest time. Meanwhile, this time of my life has enhanced my knowledge improvement of the industry. I am even thinking whether it is the will of God to step out because what I know now, I can comfortably answer any questions on maritime or logistics. I am better educated not only in NIMASA, but I've also increase my intelligence in NPA activities. I have even studied and know the Petroleum Industry Act (PIA) that was recently signed. I know the job of everyone. 
Considering your experiences in the hands of the authorities – EFCC and all, and your conviction by a Federal High Court, which was later quashed by the Court of Appeal – will you say it was worth taking up the NIMASA appointment?
When I became the DG, a maritime journalist asked me, 'How do you intend to avoid the banana peels associated with the industry?' I said well, I don't know about banana peel but I will come here and make my impact. But in doing your job, there are other things you have to consider because I came from a private sector and they do their things differently from the public sector. When you talk of my experience, it is very unfortunate, and I pray that God gives me a higher calling in this country whether the President or whatever. Why I said this is because it is very very unfortunate that people out of personal interest would use the government institution to persecute somebody because they cannot get what they want. What did I do? Very simple. I went to the Nigerian Liquefied Natural Gas (NLNG) and held a discussion with them and told them that their tax holiday, which was to last for 10 years, was over and that they were meant to pay us our three percent gross freight rate. So, on the basis of that, I told them, you are due to pay us some money because everybody else pay a three percent gross freight rate whether you are a shipping crew or importer of products, or container. It is a law since time immemorial. Now, I told NLNG to pay us our money. I told them, you are owing us $350 million based on my calculation. But they said they would not pay and I asked why? They said because they have a clause in the NLNG Act, the Greenfield clause that says no government in the future can impose any tax. But you know the NLNG Act came before NIMASA Act.
Our argument was that this three percent is not specific to NLNG because you are in Nigeria and everybody pays it. Another point is that, it is not against you NLNG. It is against your company called Bonny Transport Company which you registered in the Bahamas, and then apart from that, you have other vessels you charter that are working under you. You are still claiming that you are not paying tax on them and I said that is not right. I went to my Board and they gave me permission. I got one Yusuf, a lawyer, Senior Advocate of Nigeria (SAN) from Kwara State, and then Itse Sagay who is now a Presidential Adviser – two of them because we felt there was a constitutional issue. So, we took the matter to the Federal High Court for judicial interpretation that whether the court considers that action ultra vires which is null and void. So, that was what we went to ask the court for, for judiciary review. We didn't sue anybody. We just asked the court to tell us whether the section of this NLNG act is ultra vires. And as a matter of fact, my Minister then, Yusuf Sulaiman summoned myself and my management and the NLNG in an attempt to resolve the matter for us to withdraw the case, only for Nigerians at NLNG at that meeting to tell the Minister in my presence that we were the ones that went to court in the interest of NIMASA to seek interpretation for the NLNG Act. So, I went ahead and it led to all these I'm seeing. Though this uproar made me unnecessarily popular, it is sad that you use the rein of power that you have to persecute an individual. I was jailed, but you can go and read what the Court of Appeal said. It said the charges they raise against you do not even exist in the Nigerian law. There is no such offense. They charged you for an offense that does not even exist and they now jailed you for it. Then, we talk of the threshold. How did this threshold come about? Who approved it? The court of appeal said you charged him for approving a contract beyond his threshold. Okay, fair enough, but the law says that this threshold is supposed to be approved by the National Council of Public Procurement. You have not shown us any documents that proved that National Council of Public Procurement approved the threshold. So, what threshold are you talking about? So, you see what I'm talking about? And you ruined a man's life? If not for the Court of Appeal that stood by me! Upon all these, you still sent me to jail for 35 days at Ikoyi prison for a crime I did not commit. In all the charges they charged against me, they never said I stole a kobo. All they said was that I approved above my threshold. They didn't say the contract was not done. They didn't say money was shared. They only said I approved! You can imagine the Economic and Financial Crimes Commission (EFCC) taking me to court for approval. Is it a crime to approve? You now jailed me for an offense that does not even exist. I am 57 years old now. I was in my prime when they carried me and locked me up. And now, I'm getting close to 60. 
How will you describe the state of the maritime industry today compared to what it was when you served as the Director-General of NIMASA?
Well, when I became the DG, Cabotage was not working. Foreigners held sway in our industry and everything apart from the Nigeria Seafarer's Development Programme (NSDP), I think even now, it has gotten worse. I won't say more than that. I don't want to blame anymore. All those things we were fighting to change their narratives then are still persistent. 
The Minister of Transportation recently rejected moves to review upwards the salary of NIMASA staff. Where do you stand on this? 
Well, I believe in staff welfare in order to reduce the level of corruption. And I think the staff should be given a good condition of service and good salary package that they can use to take care of themselves so that when anybody comes to give them bribe, but when they see what they would lose if they collect that money, they would be encouraged to hold on to their integrity. I believe in good pay for a good day's work. If you decide to collect a bribe when you are collecting a good salary, then whatever will happen to you, let it happen to you. I won't say beyond that. 
The Minister also recently accused Nigerian ship owners of not owning ships. Do you agree with this submission?
You know there are two ways you need to look at that. You need to look at it very carefully. In certain aspects, you cannot attack him. Many Nigerian ship owners had owned ships but they've lost it because Government has not enforced the Cabotage. Many ship owners like Chief Isaac Jolapamo, Capt. Iheanacho, had some vessels but you are competing in an environment where you are borrowing at 12 or 13 percent, and the foreign man is coming here with his vessels at three percent. You are coming here and paying duties at 14 percent for home use, and a foreigner is only putting a bond of one percent on his vessel and he is trading in Nigerian waters, how can you compete? You can't compete because your freight rate would have to match the amount you used to pay your debt. So, naturally, because they are cheaper in freight rate, they would get more of the cargoes. So, many of the Nigerian ship's owners ran out of business. Jolapamo lost everything. I know of some companies that I am aware of the vessels they lost. Vessels that are working for international ship owners in Nigeria under Cabotage were bought by Nigerian ship owners, but as soon as it changed from foreigners to Nigerian ship owners, the NNPC stopped using those vessels and continued using the foreign ships and dumped the ones belonging to Nigerians. This means, of course, you can't pay your debt. On the offshore side – security boats and supply vessels – I think some of them are trying to pick up but real shipping, we own the cargo but they would not allow us to carry it. The worst part about it is racism by black people against black people. We still believe the white man can do better than us. However, it is so unfortunate that our own Nigerians could not see the worth of other Nigerians. Even if I no know, pikin no dey go school go learn? If you teach me, I would definitely improve. But look at it: we've been on Cabotage for 18 years now. If you give me five years, at least, I'll learn the work. They always believe that we will steal their cargoes if we are to handle them when the people who steal them are not Nigerians. The fact that you are a thief does not automatically mean others are thieves.
Do you think the refusal of the Federal Government to withhold approval for disbursement of the Cabotage Vessel Financing Fund (CVFF) is justified? 
I will say yes and no. Now, my justification for saying no is that the law does not allow them to withhold that fund because there are guidelines on how the fund is to be collected and how it should be disbursed. It is already quite stated in the law. The law already specified the guidelines. But I will now say yes and this is personal because I do not believe that in the format that the CVFF guidelines now is, the fund be disbursed. It can never be disbursed. This is because it is a civil service structure not done under a business understanding. Even though I was there when the guidelines were passed, but in hindsight now, seeing the way the guidelines are, it would be very difficult to disburse the money. The government has to change the way. That's why I'll agree with the government to withhold the fund now until we change the structure of the guidelines because if the money comes in, it will end up like the Ship Acquisition and Ship Building Fund. They don't have the right but I want the structure to be changed. 
There have been several interventions in the past to tackle piracy, sea robbery, and other maritime crimes in the country. Now the Federal Government has launched the Deep Blue project. What will be your advice to the government in ensuring that the project delivers on its promises and is sustained?
The issue of the Deep Blue project; I'll say is a laudable project. I do not believe that the asset they have would be able to achieve the purpose now. Let me explain why. As it stands at the moment, we have 84,000 square nautical miles of littoral waters. Look at the asset they bought. With this asset, you cannot patrol this territory one hundred percent. It is a good concept. Just like the Nigerian Navy's Falcon Eye, it can see far and wide. But the problem we are having is engagement and in that engagement side of things, what we should do is that because you are not able to cover everything, you need to develop a corridor. It might be 50 nautical miles wide, 100 nautical miles long. Now, that corridor would focus our patrol and cameras on that corridor. So, what happens is that when a vessel gives you a ship entry notice, you give him the details of that corridor. What you do in that corridor is that you keep a 24-hour watch so that if there's any attack attempt, there should be a response within 30 minutes. So, now, with the small asset you have, you can keep it in a small corridor. It might be 50 by 50; tight. And as you begin to acquire more assets, you will keep on extending the corridor. Now, what it means is that any vessel that comes into Nigeria enters that corridor and once it enters that corridor, it is under the cover of the Deep Blue project. So, Nigerian Government would go to international communities and inform them that once their vessels are coming into Nigeria, enter through the corridor, their vessels are covered by the security project. 
Copyright Ships & Ports Ltd. Permission to use quotations from this article is granted subject to appropriate credit given to www.shipsandports.com.ng as the source.