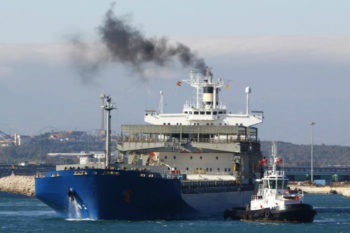 The International Chamber of Shipping (ICS) has added its voice to criticism of yesterday's vote by the European Parliament's Environment Committee to include shipping in the EU Emissions Trading Scheme (ETS) by 2023 if IMO does not take timely action to reduce the industry's carbon footprint.
The decision, if confirmed by an expected vote in the plenary session of the European Parliament next spring, risks polarizing the international community and impeding IMO's global efforts on CO2 reduction measures, it says, echoing views already expressed by the Danish Shipowners' Association.
"Non‐EU nations will be disappointed and very concerned by yesterday's vote… following IMO's adoption just a few weeks ago of a comprehensive road map for action," said ICS director of policy and external relations, Simon Bennett.
Threats of EU unilateral action will do nothing to help the complex process of agreeing a CO2 reduction strategy among IMO Member States, many of which are developing nations with "legitimate concerns" about the potential impact on trade and economic development, he added.
ICS argues that emissions trading has been developed primarily for large-scale industry and is thus "completely inappropriate" for international shipping which mostly comprises SMEs typically operating less than 10 ships.
Also, shipping's inclusion in the ETS would lead to "market distortions" and risk generating trade disputes with China and other Asian countries, as already happened when the EU tried unsuccessfully to include aviation in the scheme, it points out.
The global shipowner body's position is that if IMO Member States decide that further market based measures for CO2 reduction are necessary, the preferred solution should be a global fuel levy rather than emissions trading.
Before then, ICS says it will be working with the European Community Shipowners' Associations (ECSA) to try and persuade the plenary of the European Parliament to reject the Environment Committee's report.
Copyright Ships & Ports Ltd. Permission to use quotations from this article is granted subject to appropriate credit given to www.shipsandports.com.ng as the source.