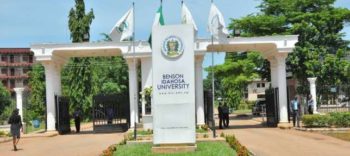 Management of the Benson Idahosa University has threatened to sanction ex-militants who are beneficiaries of the Presidential Amnesty Programmes in the institution.
The ex-militants had on Wednesday caused a lock down at the institution during a protest over non-payment of their monthly stipends by the presidency.
They set-up bonfires within the university campus and locked the institution's gate thereby preventing staff or visitors from entering or leaving the campus.
The protesters were said to have chanted war songs demanding immediate payment of their in-training allowances.
Addressing journalists in Benin City, Vice Chancellor of the institution, Professor Ernest Izevbigie, said the university was still investigating the disturbances on campus before giving appropriate sanctions.
Prof. Izevbigie stated that locking the gate and preventing people's movement was a serious offense and against the institution's laid down rules and regulations.
Izevbigie said the university's rules and regulations apply to all students of the institution whether they are under federal government scholarship or not.
He opined that the protesting ex-militants failed to explore internal mechanism to solve their problems.
His words, "Every students is accountable to his or actions. We are considering what those violations would amount to even though no property of the school was destroyed.
"Regardless of the number of months being owed, it is not sufficient for anyone to disturb the peace of others or does things not in line with our rules and regulations. We are taking steps to make sure such incidents does not occur again.
Explaining why immediate sanction was not meted to the protesters, Prof. Izevbigie said, "We are university of due process. We are following due process. There is still need for investigation. We will review the tapes as capture by CCTV."
Leader of the Niger Delta Amnesty students, Priye Noel Kuete, said the ex-militants did the protest because of hunger.
Priye explained that many of the Amnesty students wrote examinations without taking any food because of delayed payment.
He apologized to the school authorities for the disturbances and promised that such incident would not occur again.
"We expressed our apology for what transpired. For several months, our monthly stipends were not paid. We have been receiving lectures in hunger.
"We never intended to be violent. We are regretting what happened. The federal government should pay our allowances."