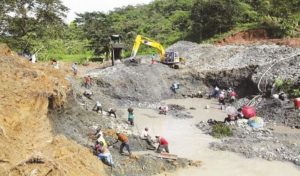 Security agencies in Ebonyi State on Wednesday arrested four Chinese nationals and 16 other suspects for illegal mining.
The suspects were arrested at the Emzoky African Resources mining site at Unuhu, Abakaliki Local Government Area by a combined team of the Army, Police and members of the State Neighbourhood Watch.
The Senior Special Adviser on Internal Security to Gov. David Umahi, Dr Kenneth Ugballah, explained after the arrest that the host community and the state government were not aware of the miners' activities.
"The illegal miners' nefarious activities adversely affect the state's economy as funds that are supposed to accrue to the government from mining are lost.
"I appeal to the people, especially those from mining areas to report the activities of such miners to the government or relevant security agencies for appropriate actions.
"We all should collaborate to check the continued loss of revenue from our God's given resources and ensure that the future of our children is not mortgaged by illegal mining activities,'' he said.
Ugballah noted that the suspects would be duly prosecuted to serve as a deterrent to other illegal miners operating in the state.
Peter Nnaji, one of the suspects, said that their mining activities were not illegal as they were certified by the National Environmental Standard Regulation and Enforcement Agency.
"We know the implication of illegal mining and call for proper investigation into this issue to ascertain our innocence,'' he said.
Newsmen reports that the suspects were taken to the state Police Headquarters, Abakaliki for interrogation.