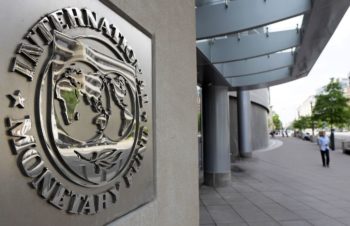 Nigeria should remove currency-trading restrictions and reduce its budget deficit and debt-service costs to "sustainable" levels, the International Monetary Fund said.
"Stronger macroeconomic policies are urgently needed to rebuild confidence and foster an economic recovery," the Washington-based lender said in a report Thursday after a team visited Nigeria. There's a "need for a front-loaded, revenue-based fiscal consolidation starting in 2017, to reduce the federal government interest-payments-to-revenue ratio to sustainable levels."
The West African economy, hit by tumbling oil revenue and a severe shortage of foreign exchange, contracted in 2016 for the first time since 1991. President Muhammadu Buhari is trying to revive growth with a record 7.3 trillion naira ($23 billion) budget this year.
He wants to raise $3.5 billion abroad to plug the deficit. The government issued a $500 million Eurobond on Wednesday as part of the 2016 budget, after raising $1 billion in February. Its debt-service costs doubled last year to 66 percent of revenue, the IMF said.
Economic Blueprint
Nigeria this month announced a four-year program to create 15 million jobs and boost growth to 7 percent by 2020 by pumping more oil, opening farmland and increasing investment in infrastructure. Gross domestic product will probably expand 0.8 percent this year and 1.9 percent in 2018, the IMF said.
Buhari's team also wants to reduce the inflation rate to single digits from 17.8 percent in February. The central bank has kept its key interest rate at a record high of 14 percent since July.
Easing capital controls "should be supported by tighter monetary policy and fiscal consolidation to anchor inflation expectations and to limit the risk of exchange-rate overshooting," the IMF said.
While the naira has fallen 37 percent against the dollar since the central bank removed a peg in June, investors say Governor Godwin Emefiele is preventing it from dropping further through trading and import restrictions and regular sales of foreign-exchange. He said this month that a free float would " destroy the currency."
Currency Restrictions
Authorities should "remove the remaining restrictions and multiple-currency practices, thus unifying the foreign-exchange market and helping regain investor confidence," the IMF said.
The currency-trading rules and multiple exchange rates have deterred foreign investors, according to Yvonne Mhango, an economist at Renaissance Capital. While the naira's official rate has been held at about 315 per dollar since August, it trades at 383 on the black market.
"Nigeria has to let the market be more involved in valuing the naira and, as the IMF says, needs a tight monetary policy to attract capital flows, improve liquidity and stabilise the currency," she said.
S&P Global Ratings spared the nation a downgrade earlier this month, affirming its B rating with a stable outlook, and said increasing crude output and government spending will support growth.
Nigeria's fiscal problems aren't helped by it having a weak tax system. It collects revenue equivalent to 6 percent of GDP, which is the lowest ratio in sub-Saharan Africa and compares with 30 percent in South Africa, according to the IMF. The government says only 214 people out of a population of 180 million pay income tax of more than $64,000 each year.
"The government should increase revenue by raising value-added tax, expanding the tax base and improving compliance," Mhango said.