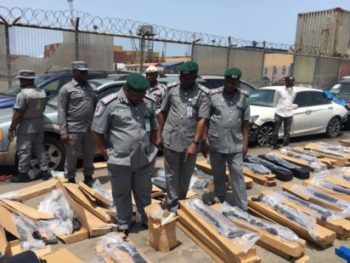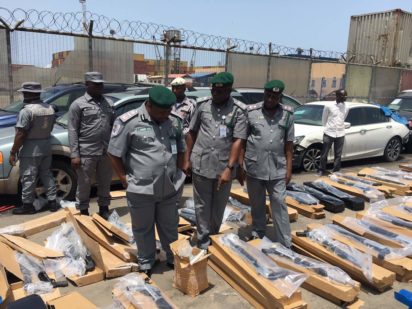 The Federal Operations Unit, Zone 'A' of the Nigeria Customs Service said it has three high profile cases pending in various courts between January and June 2017.
Public Relations Officer of the Unit, Jerry Attah who disclosed this told SHIPS & PORTS DAILY said one of the cases involve the importation of the 661 rifles among others.
"We have three cases in court. They are those involve in the importation of 661 riffles, two Chinese nationals involve in exportation of elephant tusks and an importer who broke Customs seal. Those involved in these cases are being prosecuted in court and the trial is ongoing," he said.
Meanwhile, in a related development, Controller of the unit, Comptroller Mohammed Uba has warned smugglers operating in the Zone to legitimise their business or end up in jail.
Uba who gave the warning recently in Lagos said the service would ensure full enforcement of the law, which prescribes five year jail term for smugglers without an option of fine.
"The same thing goes for exportation. Section 63 of CEMA spelt out forfeiture of any goods meant for exportation that are concealed or have inappropriate documentation," he said.
Uba said the unit within three weeks arrested 15 suspects in connection with various seizures including a container load of fake drugs.
According to him, some of the suspects are in detention while others have been released on administrative bail.
"You know the bureaucratic process involve when somebody is said to have committed an offense. First, he is given the right to defend himself and these cases are sent to court and you know the process of the judiciary. They are often very careful," he said.