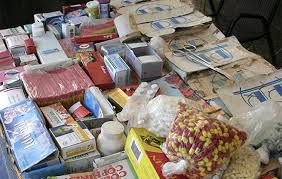 The federal government says drugs, and other pharmaceutical products, are prohibited from being imported into Nigeria, and local manufacturers with special permission to import must pay 20 percent duty.
In a statement by Salisu Dambatta, director information, ministry of finance, the government said it indeed reduced tariff on some goods, dismissing speculations on tariff hike.
Earlier, Nigerians had accused the government of raising import duty on anti-malaria drugs, despite the country's damning malaria records.
Isaac Adewole, minister of health, dismissed the claims, saying no tariff hike was placed on anti-malaria and anti-bacteria drugs.
"The attention of the Federal Ministry of Finance has been drawn to recent publications in the media, regarding the 2016 Fiscal Policy Measures (FPM), to the effect that the Federal Government has raised import duties on food items and luxury goods," the ministry said, reacting to the speculation regarding the hike.
"The Federal Ministry of Finance wishes to categorically state that the correct position is that, the 2016 FPM did not involve any upward review of tariff on the affected food items and luxury goods.
"On the contrary, tariffs for those items remained at their 2015 levels, while duties for some other items were actually reduced. A comparison of the 2015 Fiscal Policy Measures Circular dated 20th March 2015 and the 2016 Fiscal Policy Measures dated 29th November 2016 will affirm this position.
Speaking on the importation of pharmaceuticals, the ministry said they had been placed on the prohibition list, but special permission is granted to local manufacturers who have to pay 20 percent duty.
"With regards to the 20 per cent duty on pharmaceutical products in the 2016 Fiscal Policy Measures, it should be noted that pharmaceutical products were already in the import prohibition list.
"This is in support of Government's intention give further encouragement and desirable protection to local manufacturers of Pharmaceutical products and ensure that those who, despite the prohibition, import such products under special permission,  pay the required duties.
"This clarification is aimed at providing the Nigerian media and other stakeholders with the correct information on such sensitive matters and to urge all interested parties to cross-check information with relevant authorities for accuracy.
"This is especially necessary at these challenging times when the Federal Government is putting extra efforts to encourage our local industries and manufacturers."
Copyright Ships & Ports Ltd. Permission to use quotations from this article is granted subject to appropriate credit given to www.shipsandports.com.ng as the source.