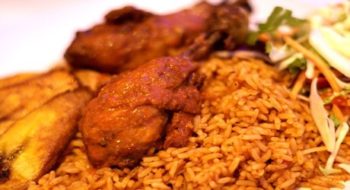 When the Tin Can Island Command of the Nigeria Customs Service disclosed recently that it intercepted and seized a container load of ready-to-serve canned jollof rice, egusi soup and moimoi, not many believed that Nigerian import merchants would go that far.
The truth however is that ready to eat foods have been in Nigerian markets for some while now.
Lead consultant at Simmons Cooper, consultants to the Consumer Protection Council (CPC), Babatunde Irukera speaking on the issue at a CPC forum in Lagos on Wednesday said Nigerians import moimoi (cooked beans paste) from England, urging the media to work assiduously with the CPC in protecting Nigerian consumers.
The consignments of ready to eat foods seized by the Customs were from India.
"One lawyer in my office bought canned moimoi and I said so they are exporting moimoi to Nigeria. The thing was made somewhere in England. The poundo eaten in England isn't coming from here but made in England. We should be the ones making them," he said.
Irukera who described the development as a product of recession noted that the country is currently in its most incredible exploitation era by companies and importers.
"Recession affects individuals more than it affects companies. Companies will continue to shift impact to the people. This underscores the need for vigilance and the very critical role the media have to play in the society," the lawyer said.
He tasked the media on driving standards because operators fear the media even more.
"Operators are concerned much about brand reputation and the media hold that in their hands.
"The agencies are overwhelmed but only the media can help. A society where there is so much ingenuity, the consumers need protection. The Nigerian society needs protection," he noted.
According to him, most companies coming to invest in Nigeria check for the worst case scenario as penalties and go for it because in Nigeria the penalties are not prohibitive enough and the legal system has collapsed.
As part of functions of the CPC, the media should also, "Seek ways and means of removing or eliminating from the market hazardous products and causing offenders to replace such products with safer and more appropriate alternatives
"Cause an offending company, firm, trade, association or individual to protect, compensate provide relief and safeguard to injured consumer or communities from adverse effects of technologies that are inherently harmful, injurious, violent or highly hazardous," he noted.
He stated that sector regulators are always known to seek balance but the media can push them beyond this if there is a clear need to protect the society.