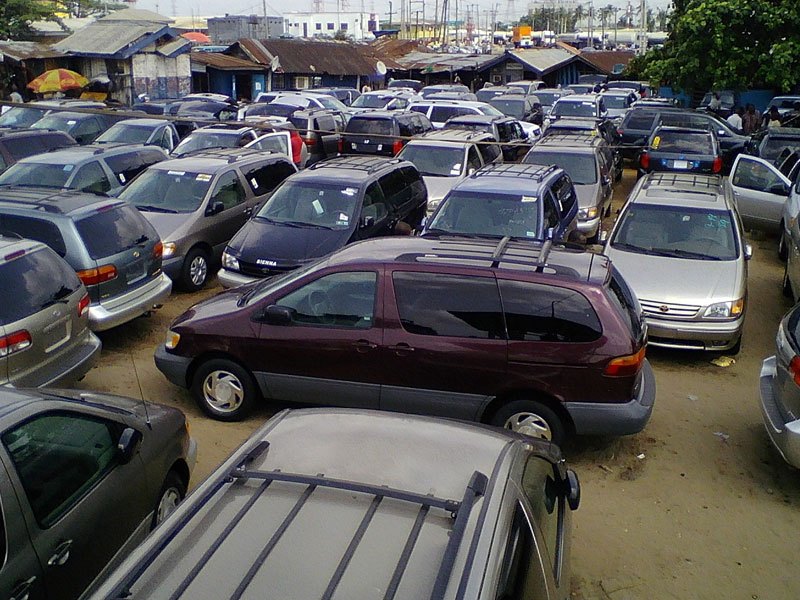 Importers, freight forwarders and beverage traders have decried the fresh taxes placed on imported vehicles, alcoholic beverages and single use plastics by the Federal Government.
SHIPS & PORTS reported on April 30 that the Federal Government has introduced a new set of taxes on imported vehicles, alcoholic beverages and single use plastics. It has also added to the list of items banned from being imported into the country.
Under the new tax regime, which will come into effect next month, imported vehicles with 2000cc (2 litres) to 3999cc (3.9 litres) engine will pay an additional charge known as Import Adjustment Tax (IAT) levy of two per cent of the value of the vehicle while vehicles with 4000cc (4 litres) and above engines will attract IAT of four per cent of their value. The new levy is in addition to the 35% import duty and 35% levy being paid by importers of vehicles.
The Federal Government will also charge N75 per litre of beer, stout and wine imported into the country in 2023 and N100 per litre from 2024.
However, some importers and car dealers who spoke with SHIPS & PORTS on the development said the new taxes will increase the cost of goods in the market. Citing an example, Chief Operating Officer of Blaze Motors, Chinedu John, who spoke with our correspondent, said the price of a 2007 Camry, which was hitherto sold for N3 million, could rise to as much as N7 million when the new tax is implemented.
'This new tax cannot take effect. They just announced it and when they see that it is not working, they will cancel it. Government is big but it is the people that make the government," he said.
Another car dealer and Deputy Director at Auto Place, Emeka Owunnali, also condemned the new tax regime.
"The increment in the taxes is affecting importers in a great way. This is because the country is not working, inflation is increasing by the day, and people are finding it difficult to buy cars because they are more expensive now. This is also leading to increment in debts. For example, you take a loan of N100,000 with a 5% interest and suddenly, the interest rate shoots up to 15%. How do you want to pay back that loan? You will run into debt. Businesses will also crumble.
"Our economy is not stable and they are increasing taxes; it is not helping matters at all. For example, Toyota Land cruiser 2018 model, which used to be N30 million to N35 million is now about N50 million because of import tariffs. The tariffs are increasing and the dollar is also increasing thereby making everything so hard for Nigerians. A lot of businesses are folding up. Things are not working out as planned and that is why you see people running out of Nigeria to go and hustle," Owunnali said.
The General Manager of Pleasant Automobile Limited, Ishak Adekunle said importers are facing challenges due to the charges on import vehicles and the depreciation of the naira.
"Jeep now goes for N53 million to N100 million or N120 million. Toyota Corolla 2021 which costs N18 million before now costs N30 million. The cost of tokunbo (fairly used vehicles) is almost the same now for new cars because tokunbo's cost is based on its valued price abroad which determines its clearing cost. This is a great challenge to us. We are just trying to keep afloat in business," Adekunle said.
A freight forwarder, Isah Christian, also expressed displeasure at the new additional tax on imported vehicles.
Christian said many importers, agents and auto dealers might be forced to close shop when the new tax is implemented.
"We will go on strike. However, we believe that the incoming government is not going to allow it because it is a government of the people but if it accepts it, then there will be no work. There will also be inflation in the prices of goods and services because I hear they want to attach the money of some agencies to the one we are already paying. They ought to meet and discuss with our union first and if the union accepts, then we do not have a choice than to accept," another freight forwarder who identified himself as Alhaji Ajisafe said.
An alcoholic beverage dealer at Alaka market, Adeoti Tinuke, said increasing taxes has taken a toll on her business. She believes the new ad valorem tax on imported alcoholic beverages will negatively affect her business and impair the purchasing power of Nigerians.