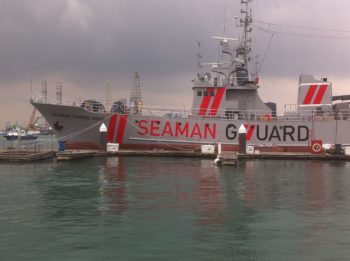 By Jite Eriabie  
35 crew members and guards of the American-owned ship Seaman Guard Ohio, arrested in 2013, have been acquitted of all charges in India.
On November 27, the Madurai bench of the Madras high court set free the seamen after the prosecution had failed to prove that the ship entered the country's territorial waters with illegal weapons and without necessary permits.
The ruling came following the November 2016 appeal led by the Chennai Six.
This marks the end of a "traumatic" four-year period spent in captivity since their arrest, according to the Mission to Seafarers.
The ship's crew including six British maritime security guards, three Ukrainians, fourteen Estonians as well as twelve Indians, was detained on October 12, 2013, in the Indian Port of Tuticorin.
The thirty-five men were working on a ship, owned by a then US-registered company Advanfort and combating Somali pirates, when they were detained by the Indian coast guard. The coast guard accused them of straying into Indian waters without permission as they headed for emergency fuel and supplies. Once they boarded the ship, officials discovered 35 firearms and ammunition.
In January 2016, all crew members were found guilty by the court and sentenced to five years imprisonment. In addition, each of them was ordered to pay Rs 3,000 fine, which will now be refunded. Since then, there has been a number of appeals.
"This is a just decision for the entire crew and one which has been the result of a tenacious campaign by the families, many individual efforts, with government intervention behind the scenes, as well as maritime union and welfare organisations combining their resources to see justice done. We now trust that the crew's repatriation will not be hindered in anyway whatsoever," David Hammond, Human Rights At Sea (HRAS) Charity Founder and Trustee, commented.
"We now wait to hear as and when the men will be allowed home to their families. This may take some time due to paperwork but the men's release from prison is imminent. But the families are understandably delighted that finally common sense and justice has prevailed," the Chennai 6's Facebook page, representing the families of the six UK nationals imprisoned in India, said.
"Today is a day that we have long campaigned for… What matters now is that the crew must be given space to be reunited with their loved ones, and the Mission will be supporting them through that process as we have from the start," Ben Bailey, Director of Advocacy, The Mission for Seafarers, said.
"The case of the Seaman Guard Ohio highlights once again the issue that millions of merchant seafarers often face when carrying out their everyday jobs. The criminalisation of seafarers remains a constant threat to those who are responsible for transporting over 90 per cent of world trade," Bailey pointed out.
David Heindel, ITF seafarers' section chair, concluded: "At last there is some form of justice, even if it cannot restore to the men the time lost since their arrest in 2013. Unfortunately, one glaring injustice remains: the scandal of AdvanFort getting off scot free, having washed its hands of its employees. They took the money, they sauntered off, pockets bulging. It is nothing short of shameful that our justice system allows them to get away with this. But as we have witnessed over and over, this is the flag of convenience system that has been created!"    
Copyright Ships & Ports Ltd. Permission to use quotations from this article is granted subject to appropriate credit given to www.shipsandports.com.ng as the source.