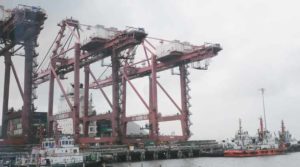 Cargo clearance at Indian seaports and airports would now be quicker as Customs authorities eliminate most manual paper works and instead use a digital system paving the way for a major boost in the country's export and import trade.
Indian's Ministry of Finance issued a decree doing away with the requirement for shippers and cargo agents to present hard copies of shipping documents including transhipment permits and bills of entry which has long been a time consuming and tedious process.
"All Customs houses at ports, air cargo complexes, Inland Container Depot (ICDs) and container freight stations have been asked to issue a public notices to that effect. This step will help importers and exporters moves towards electronic messaging and paper free environment," an official statement said.
The initiative is a follow up to a slew of ease of doing business measures that the Narendra Modi government has rolled out in the past few months as part of a larger plan to alleviate bureaucratic delays and hurdles that impede the flow of commerce and add to logistics cost.
In a World Bank survey, India ranked 130th out of 189th nations in the ease of doing business.
The extra documentation meant it took days for shippers to get cargo cleared through an Indian port compared with just a few hours in advance countries.
To boost trade, the government previously directed all port authorities to automate gate procedures, encourage shippers to use direct port delivery services for the clearance of import freight, apply much lower terminal charges for traffic handled during non peak hours, deploy more container scanners to speed up cargo flows, allocate dedicated parking lots to smooth drayage operations and improve port roadways.
Jawahariel Nehru Port Trust, which loads the majority of the country's containerised freight, has taken a lead role in this effort. Automation of gate and cargo clearance processes has largely been completed and direct port delivery is gaining momentum. The port aims to move 30 percent of its total import traffic via the scheme.
The port of Chennai and Cochin also have begun using radio frequency identification technology enabled gate systems, and others are expected to follow suit soon.
With those efforts, productivity level and cargo volumes at major ports are steadily picking up. A paper presented by the country's Ministry of Shipping fiscal year for 2015 to 2016 through March showed average turnaround time for a ship was reduced from 2.18 days previously to 2.04 days and average output per ship berth day rose from 12,342 tonnes to 13,584 tonnes.
As a result, major ports increased their combined market share of 55.26 percent to 56.56 percent in fiscal 2015 to 2016.
Copyright Ships & Ports Ltd. Permission to use quotations from this article is granted subject to appropriate credit given to www.shipsandports.com.ng as the source.