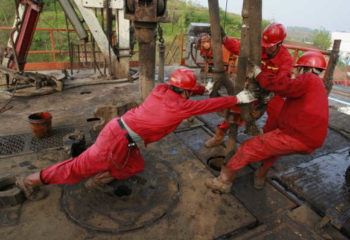 Indigenous oil companies in Nigeria may still have a long way to go in the exploration and production of oil and gas, if the verdict of the PricewaterhouseCoopers (PwC), one of the foremost global auditing firms is anything to go by.
PwC stated that despite the Local Content Act passed into law in 2010, indigenous companies still lack the requisite capacity to engage fully in oil and gas exploration.
According to Kenneth Erikume, Director, Tax and Regulatory Service, PwC, the Federal Government needs to focus more on building capacity and getting the Nigerian Content Development and Monitoring Board (NCDMB) to drive the acquisition of technical know-how requisite for the industry.
Necessary expertise
"With necessary expertise, the country would be able to create entities that could help other African countries in their oil and gas sector. This is the direction a country such as Nigeria, that started oil and gas operations in the 1950s, should be taking," he said.
Erikume explained that the government needs to encourage investments in the petroleum industry, by providing the enabling environment and respecting some of the agreements and concessions it has with operators. "When this is sorted out, investors would be more comfortable to invest," he said.
Erikume also called for the passage of the Petroleum Industry Bill (PIB), so as to get investors' confidence in the industry. .
He stated: "From the national perspective, what most investors are looking forward to is the final decision on the PIB, which has taken too much time to complete. It has implications on the fiscal quality which will impact on how much dollar an investor would be able to recover if he embarked on crude oil exploration and production." To address the issue, he said, the National Assembly, in consultation with stakeholders, has to expunge the portion of the bill that is related to corporate governance and administration from the fiscal and commercial aspects of the bill.