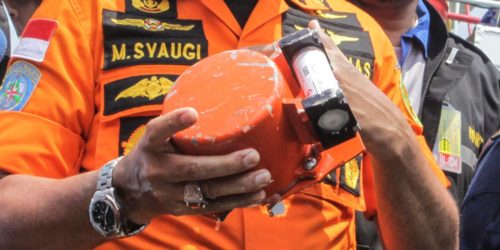 Indonesian divers have retrieved a black box from a Lion Air passenger jet that crashed into the shallow sea off the coast of the capital, Jakarta, killing all 189 people on board.
The device should provide clues to what went wrong after the plane lost contact with ground staff just 13 minutes after taking off early on Monday from Jakarta, on its way to the tin-mining town of Pangkal Pinang.
"We dug and we got the black box," a diver, identified as Hendra, told broadcaster, Metro TV, on Thursday on board a search vessel, the Baruna Jaya, describing how his team found the orange-coloured box intact in debris on the muddy sea floor.
The diver said he had seen only "small pieces" of the aircraft, and the search had closed in on the black box because of the "ping' signals it emitted.
The device, identified as the flight data recorder, would be handed over to the National Transportation Safety Commission (KNKT), authorities said.
The plane's black boxes should help explain why the almost-new Boeing 737 MAX 8 jet went down.
It could take up to three weeks to download data from the black boxes and up to six months to analyze it, Head of KNKT, Soerjanto Tjahjono, said on Wednesday.
Deputy Chief of the National Transport Safety Panel, Haryo Satmiko, told Reuters earlier an underwater drone had detected an object suspected to be part of the fuselage in waters about 30 meters (98 feet) deep not far from the site where the aircraft lost contact.