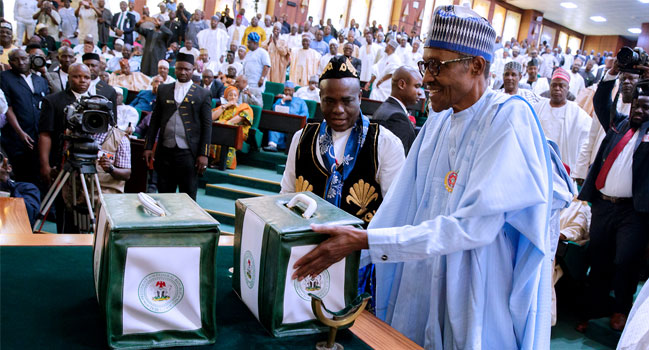 Infrastructure, represented by the Ministry of Power, Works and Housing and Ministry of Transportation, and Defence, will take the bulk of federal capital spending in 2018, according to a proposal submitted by President Muhammadu Buhari to the National Assembly Tuesday.
The three ministries will get money more than the 12 other sectors combined.
Dubbed the 'Budget of Consolidation,' President Buhari said the budget would consolidate on the achievements of previous budgets and deliver on Nigeria's Economic Recovery and Growth Plan (ERGP) 2018 – 2020.
Giving a further breakdown of the budget, Buhari said that 30.8 percent (or N2.652 trillion) of the budget will be allocated to capital expenditure while N3.494 trillion is budgeted for recurrent expenditure.
Details of the budget proposal revealed that the Power, Works and Housing has the highest capital project proposal with N555.88 billion.
The president listed some projects, which will be executed under this sector in 2018, to include the Mambilla hydropower project and the National Housing Programme.
Transportation sector comes second with a projected allocation of N263.10 billion for capital projects.
Specifically, N12 billion counterpart funding is earmarked for transmission lines and substations, N10.00 billion for the 2nd Niger Bridge; and N300 billion for the construction and rehabilitation of the strategic roads.
The third sector to attract most in capital expenditure proposal is Special Intervention Programmes with N150.00 billion and Defence, fourth with N145.00 billion.
Other sectors are Agriculture and Rural Development, N118.98 billion; Water Resources: N95.11 billion; Industry, Trade and Investment, N82.92 billion; Interior: N63.26 billion; Education N61.73 billion; Universal Basic Education Commission, N109.06 billion; Health, N71.11 billion; Federal Capital Territory, N40.30 billion; Zonal Intervention Projects, N100.00 billion; North East Intervention Fund, N45.00 billion; Niger Delta Ministry, N53.89 billion; and Niger Delta Development Commission, N71.20 billion.
Details of the budget proposal revealed that a significant increase is being projected in the revenue accruable from the oil and non-oil sectors.
"Based on the above fiscal assumptions and parameters, total federally-collectible revenue is estimated at 11.983 trillion Naira in 2018. Thus, the three tiers of Government shall receive about 12 percent more revenues in 2018 than the 2017 estimate.
"Of the amount, the sum of 6.387 trillion Naira is expected to be realised from oil and gas sources. Total receipts from the non-oil sector are projected at 5.597 trillion Naira.
"The Federal Government's estimated total revenue is 6.607 trillion Naira in 2018, which is about 30 percent more than the 2017 target. As we pursue our goal of revenue diversification, non-oil revenues will become a larger share of total revenues. In 2018, we project oil revenues of 2.442 trillion Naira, and non-oil as well as other revenues of 4.165 trillion Naira.
"Non-oil and other revenue sources of 4.165 trillion Naira, include several items including: Share of Companies Income Tax (CIT) of 794.7 billion Naira, share of Value Added Tax (VAT) of 207.9 billion Naira, Customs & Excise Receipts of 324.9 billion Naira, FGN Independently Generated Revenues (IGR) of 847.9 billion Naira, FGN's Share of Tax Amnesty Income of 87.8 billion Naira, and various recoveries of 512.4 billion Naira, 710 billion Naira as proceeds from the restructuring of government's equity in Joint Ventures and other sundry incomes of 678.4 billion Naira."
Copyright Ships & Ports Ltd. Permission to use quotations from this article is granted subject to appropriate credit given to www.shipsandports.com.ng as the source.