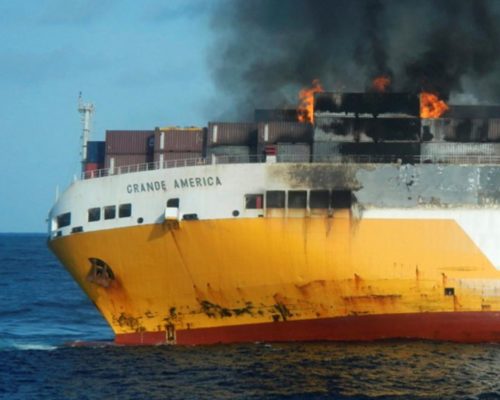 A major containership fire occurs every 60 days it has been estimated as insurer TT Club says the campaign for greater container safety must first focus on dangerous goods.
Containership fires have hit the headlines again this year with the fire onboard the Yantian Express in early January and the recent fire on the Grande America that led to the vessel sinking. 
However, these headline grabbing incidents are just the "tip of the iceberg" according to the TT Club. The insurer said that it was estimated there was a major containership fire every 60 days, with some four major cargo-related fires so far this year alone.
Looking at the entire intermodal supply chain 66% of incidents related to cargo damage can be attributed to poor practice in the overall packing process; that is not just in securing but also in cargo identification, declaration, documentation and effective data transfer. The calculated cost on the Marine Aviation & Transport insurance sector is in excess of $500m a year.
TT Club's Risk Management Director, Peregrine Storrs-Fox, who is leading the Cargo Integrity charge, said, "We are endeavouring to focus all direct and indirect stakeholders on recognising and doing the right thing. One particularly critical aspect of this is the correct declaration and handling of dangerous goods (DG)."
The misdeclaration of dangerous cargoes has been highlighted as cause of containership fires, with dangerous goods costing more to transport.
ICHCA International, the cargo handling operatives association has calculated that of the 60m packed containers moved each year, 10% or 6m are declared as dangerous goods. Based on information from government inspections 20% of these shipments are poorly packed or incorrectly identified, which translates to 1.3m containers a year that are transported worldwide.
"There is very much still to be done in achieving true Cargo Integrity. Our diverse campaign is seeking significant cultural and behavioural change to say the least. Certain elements may require legislative action, enforcement and inspection and there are great challenges in the field of technological development. Above all there is a need for all involved in the supply chain to have a realistic perception of risk and a responsible attitude towards liability," Storrs-Fox added.  
Copyright Ships & Ports Ltd. Permission to use quotations from this article is granted subject to appropriate credit given to www.shipsandports.com.ng as the source.