As the world celebrates the International Women's Day, for many corporations, it is a time to reflect on the record achievements and changes made by creating more opportunities for women in the workplace.
In the last few years, APM Terminals Apapa, began a concerted effort to recruit more women into its majorly male operations workforce. The company in 2018, filed a permit application to the Trade Union Services & Industrial Relations under the Federal Ministry of Labour and Productivity. This was to enable many qualified female employees who had indicated interest and willingness, to work the graveyard shift. However, a provision in the Labour Act in Nigeria prohibits night work for women in industrial setting.
A year later, the Nigerian government issued an order allowing APM Terminals Apapa to hire female employees to work the night shift – furthering the terminal management's efforts to promote gender diversity and inclusion within the organization.
Over the years, we have successfully hired female employees as heavy equipment operators, bringing the total number to ten. This is in addition to a female banksman. Today, we appreciate our female workforce and celebrate their numerous contributions to the terminal's operations.
Makinde Olufisayo Bunmi:  Apps, Data and Business Intelligence Guru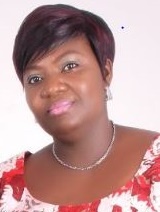 Fisayo is a graduate of Computer Science with expertise in Training, Database Administration, Application support, EDI management, project management and Business Intelligence.
Over the past 15 years, Fisayo has worked in various capacities at APM Terminals Apapa. Her expertise cuts across Gate, Planning and Information Technology departments.
Detailed oriented, fast paced and result driven, some of Fisayo's innovations include developing operations reports on MS Excel Macro, setting up Electronic Data Interchange (EDI) messages with shipping lines, developed the first Incentive scheme model which has since been modified for business use and developed various business models for justification for CAPEX Investment.
She also led a project team to develop standard operating procedures for all departments in Apapa in preparation for ISO 9000 certification.
In her current role, Fisayo supports the IT business unit with her cross functional experience and broad understanding of the business and its operations. She has played a key role in Apapa's digital transformation with her business intelligence capabilities delivery dashboards that helps drive the terminal's business units. Fisayo is an Oracle Database Certified Professional, ALDP 2019. A top performer of the 2019 ALDP class, she delivered a project that has been implemented for Maersk.
Fisayo believes women must continue to push themselves beyond their limits. She says, "We must believe in ourselves and push beyond the limits towards excellence. As we strive to deliver value through our uniqueness and unusual thought process to bring about the desired change in our world regardless of limitations."
Cynthia Macpepple: RS Operator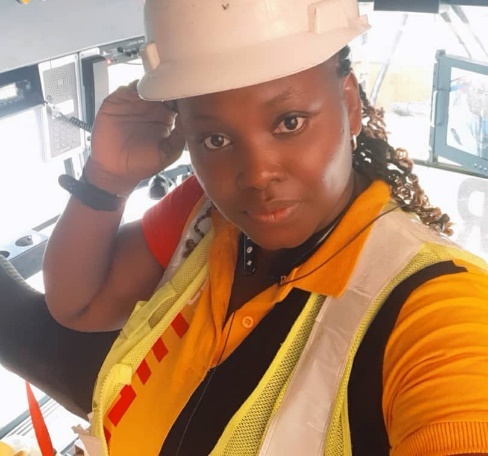 Cynthia Macpepple is one of the pioneer set of female reach stacker and empty handler operators at APM Terminals Apapa.
Her first stint at work was in April 2019. Since then, Cynthia has consistently displayed an exceptional understanding of the processes and operations and within her first year of work, received recognition for excellent service. She has also, within this time, acquired the knowledge of operating a forklift, and a rubber tyred gantry crane (RTG crane).
A team player, Cynthia through her track record of consistent achievements, sees herself growing through the ranks to become a senior manager in the organization.
Passionate about self-development, Cynthia does not see her gender as a limitation. She says, "I am willing to take on more responsibilities within my field. I am a firm believer that women can deliver and make positive impacts in whatever fields they find themselves in. So many Nigerian women have a significant impact on society, and they continue to inspire many young women to aspire to greater heights."
She holds a Chemical Engineering degree from the Rivers State University. She is also a member of the Nigerian Society of Engineers (NSE) and the Nigerian Society of Chemical Engineers (NSChE).
Agboola Odunfuwa; Direct Sales Manager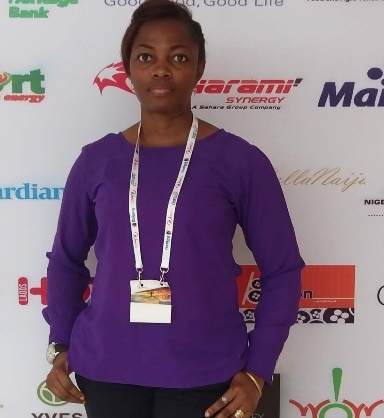 Agboola Odufuwa is a woman of diverse talents. Skilled in Operations Management, International Shipping, Stakeholder Management, Logistics Management, and Procurement, Agboola has a career in the Nigerian maritime industry spanning a decade.
A Direct Sales Manager in APM Terminals Apapa Limited, Agboola is passionate about her career and envisions herself becoming a regional commercial team lead in the APMM Maersk Group in the nearest future.
In her current role, Agboola is responsible for managing the terminal's key clientele, whose products and services add value to the Nigerian market consumer experience and grow the economy.  She also optimizes these clients' end to end supply chain by providing meaningful value propositions and solutions which further reduces the cost burden that would have been passed down to the final consumers.
Prior to her stay at APM Terminals Apapa, Agboola had garnered experience as an Operations and Logistics manager for a company that handled the inventory and supply management of spare parts for a local taxi community in Cote D'Ivoire – Abidjan.
Agboola cut her teeth here in the procurement profession, purchasing and supplying vehicle spare parts required for both corrective and preventive maintenance of the taxi fleets from Nigeria to Abidjan.
She moved on to take another procurement role, this time at APM Terminals Apapa, a position she held for nine years with demonstrated results.  Some of them include managing all local purchases for the terminal for about 5years, in addition to international purchases and contracts. On all this, Agboola achieved a savings of about 15000 USD on filters not to mention other items.
A motivational speaker, Agboola believes in encouraging women to discover the best of themselves.  She says, "It is important that as women climb up the corporate ladder, that we make way for others to also come up.  For every career woman, self-development is a must; we shouldn't take it for granted."
Agboola is a member of the Chattered Institute of Procurement and Supply (CIPS) & Chattered Institute of Warehousing and Materials Management (CIWM). She also holds a certification in Oracle 10g database administration.
Chinyere Bishi, Banksman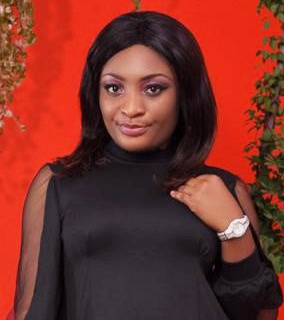 A graduate of Computer Science and mathematics from the University of Port Harcourt, Rivers State, Chinyere Bishi, has a knack for breaking new grounds. APM Terminals' Apapa first and only female banksman, Chinyere began her career at the terminal as Health and Safety Administrative Assistant. This role meant Chinyere was responsible for inducting and sensitizing all visitors to the terminal on its safety rules, among several other duties.
A year later, she moved to operations, taking up the position of a banksman, a sensitive role that requires focus and meticulous maneuvering. An often-rigorous role which sometimes require boarding vessels, Chinyere has been able to hold her own in this male dominated field.
Chinyere holds a professional diploma in safety and security management, from the Rivers State University of Science and Technology, and a certification in Emergency response, sponsored by Nigerian Petroleum Development Company (NPDC).
Ijeoma Mgbachi, Human Resource Partner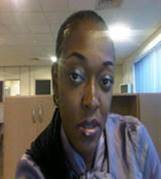 An experienced Human Resource professional, Ijeoma is APM Terminals Apapa Partner, HR & Administration. In her role, she proffers HR solutions which address the needs of the business, and ensure the employability, performance and development of people across all levels of the organization. This is in addition to advising and partnering with the business in recruiting diverse talent into the company.
Ijeoma's style is warm and supportive but challenging, with a strong focus on accountability and commitment.
As APM Terminals is committed to diversity and inclusion, Ijeoma continues to promote opportunities to hire more females into other male dominated departments like security, Operations, Technical, IT and Management and encourages their participation in company sponsored women programs.
For Ijeoma, an increased percentage of women in any workforce is of greater asset to an organization. She says, "Women tend to be conscientious in their duties. Perhaps this trait comes with family role of being nurturers and caregivers. They are quick to spot issues and lapses in operational procedures, which is of immense benefit in this business."
Perpetua Onyia, Reach Stacker Operator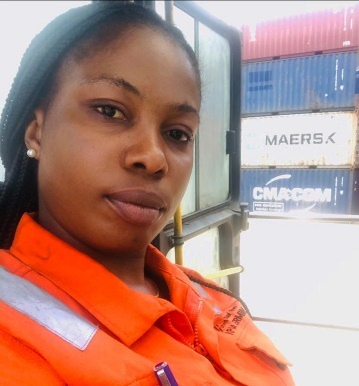 Perpetua Onyia, is also one of the pioneer female equipment operators of APM Terminals, Apapa. A multi-skilled operator, she is also skilled at operating Empty Container Handlers.
Her responsibilities include but are not limited to receiving, loading, shifting in stack, housekeeping activities for containers to and from the yard for vessel operations, and, or serving the land side customers for deliveries/examination as per work order queues, in a safe manner.
A former service professional with over 5 years experience of handling multinational clients, providing excellent customer support and building customer loyalty, Perpetua holds a Bachelor's degree in Computer Science as well as a professional certification in Oracle Database Management.
For Perpetua, there are no limits to her career. She says, "My job has enhanced so many skills; excellent depth perception, hand-eye coordination and a fast reaction time. It has also enhanced my ability to critically think and be able to make a good judgment call quickly. I look forward to expanding my base on yard/quayside task planning as well as vessel/barge planning."