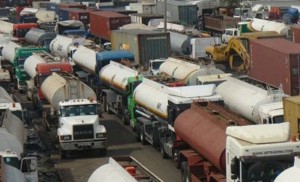 The Independent Petroleum Marketers Association of Nigeria (IPMAN) has appealed to the Federal Government to reactivate the five depots in the South-West Zone to ease congestion in Apapa.
The Chairman of South-West Zone of IPMAN, Alhaji Debo Ahmed, made the appeal in Lagos on Tuesday.
He made the appeal against the backdrop of long queues of trucks waiting to load petroleum products in Apapa.
Ahmed said that inability of trucks to load petroleum products at the western depots contributed to the congestion at the Apapa private depots.
He said that Ilorin and Ore depots, which had the capacity for about 20 million litres of storage facilities, were still down, adding that supply of product to these depots had become irregular for months now.
According to him, many marketers in the western zone have to move to private depots in Apapa to get supplies.
"We appeal to the government to concentrate more on overhauling the western depots to ease over the bearing congestion at Apapa.
"As we speak, Ejigbo and Mosinmi depots just started loading trucks yesterday after a long while.
"Government should intensify efforts to revive the system 2B product pipeline to western zone depots comprising Ajigbo, Mosinmi, Ore, Ibadan and Ilorin," he said.
Ahmed said that more than 3,000 trucks obtained products from private depots in Apapa.
The IPMAN boss lauded the zero tolerance of the Federal Government for vandalism.
"We urge the government and its agencies involved in the fight not to relent until pipeline vandalism becomes a thing of the past.
"A few unpatriotic and disgruntled elements should not hold the larger majority of Nigerians, the states and Federal Government to ransom."
A marketer at Ejigbo depot, Amos Adeniyi also said that the depot received petroleum products on July 17.
Adeniyi said that loading at the private depots in Apapa posed a serious challenge to the truck drivers because of the numerous trucks going from Kwara, Ilorin, Ekiti, and Kogi.
He urged the government to revive the western depots to ease congestion.
On July 17, the Nigeria Union of Petroleum and Natural Gas Workers appealed to the NNPC to provide alternative loading depots for petroleum tankers to load so as check the gridlock at Apapa.
The recurring gridlock in Apapa is because 90 per cent of petroleum products are stored in various private tank farms in the area.