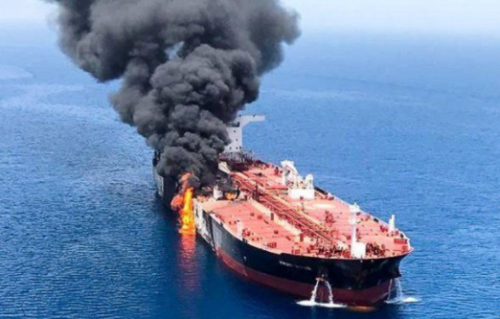 Following the latest attack on two tankers in the Gulf of Oman, the U.S. expressed its beliefs that Iran is behind the incidents.
In his remarks, the U.S. Secretary of State, Michael R. Pompeo, said that the intelligence officials have "lots of data, lots of evidence" available to support this claim.
"These were attacks by the Islamic Republic of Iran on commercial shipping, on the freedom of navigation, with the clear intent to deny transit through the strait," he added.
In his remarks however, Pompeo assured that the U.S. does not want to go to war with Iran. He stressed the need for diplomacy, adding that U.S. officials are reaching out to their foreign counterparts.
The attack occurred in the morning hours of June 13 and affected the tankers Front Altair, owned by Norway's Frontline, and Kokuka Courageous, managed by Bernhard Schulte Shipmanagement (BSM).
The 27,000 dwt Kokuka Courageous sustained damage to its hull on the starboard side from what appeared to be limpet mines, and was towed to an anchorage off Fujairah the same day.
Front Altair reportedly arrived at the anchorage on June 15, two days after it was involved in the attack and subsequent fire in the Gulf of Oman. During the towing operation the vessel was sprayed with water in order to cool down the hull, according to Iran's Ports & Maritime Organization.
SMIT Salvage, the subsidiary of Dutch salvage company Boskalis, has been appointed as the salvor for the vessels and their cargo.