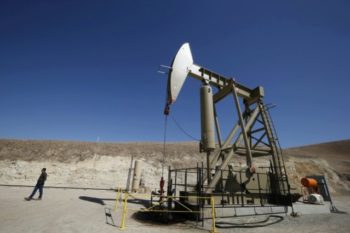 OPEC member Iraq has formed a joint venture with a shipping company owned by Arab states to transfer, store and trade crude and oil products, according to official documents and industry sources.
Middle East oil producers are venturing into buying and selling oil to boost their incomes as a sharp drop in crude prices since mid-2014 has forced the industry to become more efficient and commercially focused.
The venture, Al-Iraqia Shipping Services and Oil Trading (AISSOT), will handle a "plethora of activities ranging from trading of petroleum products, ship chartering, oil terminals, various marine services, and bunkering", according to a company statement sent to Reuters.
AISSOT is owned by state firm Iraqi Oil Tankers Co (IOTC) and Arab Maritime Petroleum Transport Co (AMPTC), a pan-Arab company in which Arab oil producers such as Saudi Arabia, the United Arab Emirates and Kuwait hold a share.
IOTC owns a stake of 22.5 percent in AISSOT, according to a copy of the signed 20-year contract seen by Reuters.
"Formation of AISSOT is based on Iraqi Oil Ministry vision to further strengthen activities of two major entities i.e. AMPTC and IOTC in the field of shipping, marine services, and oil trading," the company said in a statement.
"It is also one of Iraqi Oil Ministry's initiatives to develop national oil companies to international levels."
AISSOT, which will soon start bunkering operations at ports in southern Iraq, is the second oil venture set up recently by the country.
State oil marketer SOMO and Russia's Litasco formed a joint trading company in Dubai to market crude and may expand into oil products and petrochemicals, industry sources said.
"The new venture will have exclusive rights for transportation of crude and refined products. It will develop other projects include trading starting with fuel oil and products and can eventually get into crude oil allocations," said an industry source familiar with the company's operations.
AISSOT will be based in Dubai with plans to open offices in Singapore and other hubs. It has around 25 employees now and intends to go up to 50 in Dubai by the year-end, the source said.
The company is in discussions to build a terminal storage facility in Iraq over the next few years that would handle crude and oil products, the source added.
According to AISSOT, the company "is in a position to invest in and gradually acquire a significant fleet to transport the majority of Iraqi crude oil to end users at competitive rates".
The company will also start a marine academy to train Iraqis, with the aim of eventually having up to 85 percent Iraqi nationals working on its ships.
AISSOT's co-owner AMPTC was established in 1973 by member countries of the Organization of Arab Petroleum Exporting Countries. Saudi Arabia's government is the biggest shareholder in AMPTC with a 15.595 percent stake, while Iraq has 13.657 percent, according to the company's website.
Kuwait has 15.484 percent, the UAE 14.175 percent and Qatar 14.776 percent, along with other countries such as Libya, Algeria, Bahrain and Egypt.