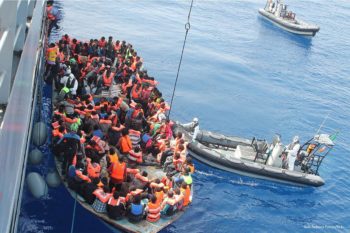 The chief prosecutor of a Sicilian court said on Friday that a task force is looking into whether people smugglers may be financing rescue boats run by humanitarian groups that operate off the coast of Libya.
A court task force is conducting "an analysis" – not a criminal investigation – into concerns that some boats may be working with smugglers, Carmelo Zuccaro, Catania's chief prosecutor, told Reuters in a telephone interview.
"Last summer we saw something we'd never seen before: At times there were 13 boats operated by NGOs working at once," he said. Catania on the eastern coast of Sicily is near the ports where most migrants are brought after they are rescued.
"Do these NGOs all have the same motivations? And who is financing them?" Zuccaro asked.
The court's concerns are based on the fact that they are conspicuously well-funded operations and on migrant testimony, Zuccaro said, that smugglers provided directions to where rescue boats would be located before they disembarked.
Humanitarian groups said that their boats can be located with free, real-time ship tracking on the Internet.
"This seems to be a notion based on incompetence," said Stefano Argenziano, head of search and rescue operations at Doctors without Borders.
"The problem isn't where rescue ships are, but that hundreds of thousands of people are putting themselves in the hands of traffickers and risking their lives."
A record 181,000 boat migrants came to Italy last year and most of them were rescued at sea. More than 90 percent departed from Libya, and some 5,000 died in the Mediterranean last year.
Not all rescues are carried out by humanitarian groups. Italy's coast guard and navy coordinate and participate in sea rescues, and private ships, vessels working with the European Union border agency Frontex and others with the EU anti-trafficking operation Sophia also frequently help with rescues.
Four groups contacted by Reuters that operated private rescue ships last year said they were funded by donations mainly from private citizens, with some contributions from foundations, companies, or through commercial partnerships and state grants.
All four denied any link with human traffickers.
"It's absolute nonsense," said Ruben Neugebauer, a spokesman for the German humanitarian group Sea-Watch. "We are funded entirely by donations," he said, adding that the average amount given was far less than 100 euros.
"We created our group to respond to the moral and legal obligation to save lives," said Sophie Beau, co-founder of SOS Mediterranee, which operates the Aquarius rescue vessel with donations, which averaged about 170 euros.   
Copyright Ships & Ports Ltd. Permission to use quotations from this article is granted subject to appropriate credit given to www.shipsandports.com.ng as the source.