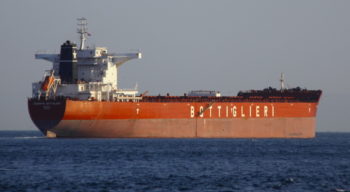 Giuseppe Bottiglieri Shipping Company, one of Italy's biggest shipping firms, has sought court protection in the country from its creditors as it looks to restructure its debts, providing more evidence of fallout from a near-decade long sector slump.
Privately-held Bottiglieri, whose fleet includes dry bulk ships as well as chemical tankers, said "the unprecedented world freight market crisis" together with currency volatility contributed to it filing for "consensual" debt restructuring talks with creditors.
This followed an earlier application for court protection on Dec. 29 under Italy's insolvency law.
"No enforcement proceedings of whatsoever nature against the company have been made by financial creditors, suppliers, charterers, crew, employees or by any other creditor," it said in a statement on Monday.
"Giuseppe Bottiglieri Shipping Company SpA regularly continues its business in the interest of all the stakeholders."
The company declined to comment on market speculation that it could opt to sell some of its ships to raise money.
Dry bulk shipping, which transports commodities including coal, iron ore and grain, has been one of the worst performing areas of the shipping industry in the past few years, partly due to worries over the health of China, one of the biggest importers of industrial goods.
Dry bulk shipping turned down in 2008 after the onset of the financial crisis and has remained volatile since then. Last year, dry bulk rates slumped to their lowest recorded levels.
Some companies have already gone under. The collapse of South Korean container shipping group Hanjin in August was partly due to its additional exposure to dry bulk.
Earlier casualties included Italian dry freight group Deiulemar Shipping, which was declared bankrupt in 2012.
Last year, Pillarstone – a platform set up by U.S. private equity firm KKR to buy non-core bank assets in Europe – signed a deal with Italian shipping group Premuda, which involved taking on and managing about 300 million euros ($322.14 million) of exposure from various banks.
Copyright Ships & Ports Ltd. Permission to use quotations from this article is granted subject to appropriate credit given to www.shipsandports.com.ng as the source.