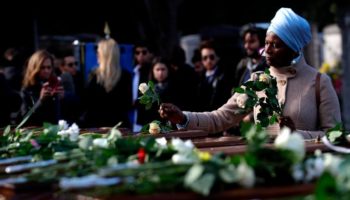 The federal government says the Italian embassy in Nigeria has tendered an apology for burying the 26 victims who died at the Mediterranean Sea en route Italy, earlier than agreed.
Senior Special Assistant to the President on Foreign Affairs, Abike Dabiri-Erewa, said this in a tweet on Wednesday.
"The Italian Embassy has apologized for the mix up for dates in the burial of the victims of the Mediterranean tragedy. @naptipnigeria and other agencies will continue to work with Italy and others to stem the tide of irregular migration," she stated.
The deceased, all females, who were alleged to have been sexually abused, got buried in Italy on November 17.
At a press conference in Abuja on Monday, Dabiri-Erewa said the Italian authorities had told the National Agency for Prohibition of Trafficking in Persons (NAPTIP) that the burial would take place onNovember 26.
Dabiri-Erewa, alongside Abdulrahim Shuaibu, a representative of NAPTIP, said a protest letter had been sent to the Italian envoy in Nigeria.
The government had demanded explanations from Italy.
"It was shocking to watch the burial of these migrants on television… the information from the Italian embassy to National Agency for Prohibition of Trafficking in Persons (NAPTIP) was the fact that these girls would be buried on November 26," she had said.
"We are asking the Italian authorities, and we have communicated a letter through the Italian embassy here in Nigeria, why these girls were buried nine days before the agreed date.
"Secondly, where are the results of the pathological tests that were done, who conducted the DNA tests and how do we now identify that all 26 girls were Nigerians?"
Some people had criticised the government over the way it handled the issue.  
Copyright Ships & Ports Ltd. Permission to use quotations from this article is granted subject to appropriate credit given to www.shipsandports.com.ng as the source.