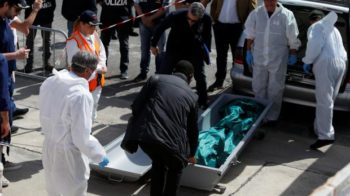 Italy has arrested a Libyan man suspected of involvement in the killing last week of a migrant, who was shot dead when he refused to take off his baseball cap, police said on Thursday.
Police on the island of Sicily said a group of migrants had been packed on a motorised rubber dinghy and were heading from Libya towards Italy when a group of people smugglers drew alongside and ordered that they remove their hats.
Seconds later, Kellie Osman, 21, from Sierra Leone, was shot by one of the smugglers.
Police said in a statement that the gunman had not been identified, however, they said aerial video showed Libyan suspect Abouzid Nouredine Alhadi had boarded the dinghy from the smugglers' boat and had tried to blend in as another migrant.
A second Libyan had boarded another boat packed with migrants and he has also been detained and faces people-smuggling charges, police said on Thursday.
More than 43,000 people have reached Italy from Libya so far this year, the U.N. refugee agency says, many of them facing violence and intimidation during the dangerous journey.
Libyan gangs have taken advantage of a breakdown in law and order in the north African country to make a lucrative business from packing sub-Saharan Africans into rickety boats bound for southern Europe.
Separately, police said three Nigerians were detained in Sicily on Thursday and face charges of allegedly killing, torturing and sexually assaulting other Africans while they were trapped in Libya awaiting a passage to Italy.
According to survivors, the three men, who arrived in Sicily last month with hundreds of migrants, had acted as jailers at a disused military base in Sabratha, Libya, where the would-be migrants were held for ransom.
Some of their prisoners were beaten so badly that they later died. The three also allegedly took payments for packing migrants onto rickety boats. 
Copyright Ships & Ports Ltd. Permission to use quotations from this article is granted subject to appropriate credit given to www.shipsandports.com.ng as the source.