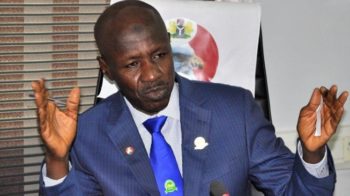 Chairman of the Economic and Financial Crimes Commission (EFCC), Ibrahim Magu, has described the fight against corruption as a "do or die" affair.
Speaking on Monday after a rally organised by the commission to commemorate the World Anti-Corruption Day, Magu said the country must win the fight against all odds.
He said for the war against corruption to be successful, Nigerians must work out a united front against the menace.
"For those of us on this side; in the anti-corruption agencies of government, in the media, and civil society, the dagger is drawn and I believe I am speaking the mind of everyone on this side that we intend to neither retreat nor surrender in our noble intention to cure our country of the evils of corruption," he said.
"For us as a country, the fight against corruption is a do or die affair; we have to win the battle or die trying.
"Corruption, as agreed by every consensus, is our number one enemy and as President Muhammadu Buhari correctly prescribed, if we do not kill corruption, corruption will kill Nigeria.
"The fight against corruption is now a war in which there is a clear line between forces of evil and those of good; between agents of progress and reactionary elements who mean no good."
Magu added that the formidable force against corruption is "not necessarily in physical groups or organizations", rather, "in retreating into our hearts to make the solemn commitment".
"Winning the fight against corruption means signing an unwritten accord with our maker that we would not indulge in corruption," he added.    
Copyright Ships & Ports Ltd. Permission to use quotations from this article is granted subject to appropriate credit given to www.shipsandports.com.ng as the source.